SXU Partners with Leading Web Development Platform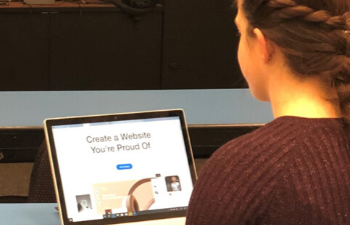 Saint Xavier University's (SXU) Graham School of Management (GSM) has partnered with Wix, a leading platform for website development and e-commerce. A newly created course has been launched this spring semester and will culminate in a course project that involves student development of an online store.
"This is an incredible opportunity for future business leaders and entrepreneurs," said Mark Rosenbaum, Ph.D., dean of GSM. "Students will have the ability to learn how to create effective websites based on a curriculum designed by Wix. Emphasis is on understanding digital technologies, like customer relationship management, search engine optimization and product metrics and critically evaluating their influence, particularly on digital merchandising strategies."
Students find the course to be a stimulating part of the business curriculum. Leslie Moreira, a graduating senior Digital Marketing major said, "I enrolled in the course because I wanted to learn more about website building and online marketing. Although we're only a few weeks into the course, I have already gained substantial knowledge about the Wix platform and the importance of marketing strategies in today's digital world."
Wix certification will be available for free as part of course completion. Each student will have the opportunity to become Wix-certified based on the completion and assessment of each student's website. The additional certification increases students' marketability and demonstrates their ability to stay current on emerging technology and trends.
"Wix is thrilled to partner with Saint Xavier's Graham School of Management and help students become business leaders. With Wix, students can achieve those goals by learning how to develop a professional online presence," said Ohad Bolatin, head of Wix Academic Partnerships. "Our curriculum was built to help students understand how to think and operate about the different facets of business straight from their websites."
GSM is focused on developing student business leaders for personal, professional and service excellence, and high-impact learning practices like these help students gain technical skills to prepare them for careers in business and service industries.
"This course will now be a required course for our business majors," said Nick Mancari, director of GSM Undergraduate Programs. "It's important that all majors in business, whichever field it may be, have skills in web development. That is the way that business is shifting, and we know it's important for our students to be prepared for that."
---