SXU's Professor Jacqueline Battalora Presents at Conferences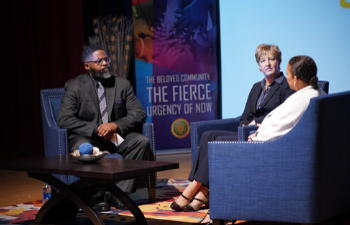 Saint Xavier University's (SXU) Jacqueline Battalora, Ph.D., J.D., professor of sociology, anthropology and criminal justice presented at several conferences throughout 2019 and the start of this year. Battalora's scholarship works to break down racial constructs and address the impact racism and oppression has on people living in the United States.
Covering a number of topics related to systematic racism, Battalora's discussions work to help shift organized culture toward an environment of belonging. In November, Battalora delivered a keynote presentation, "Going Back to Go Forward," and a classroom presentation, "The Invention of White People in Law" at the Greater La Crosse Area Diversity Council's Ninth Annual Conference, "Finding Knowledge for Growing and Strengthening Inclusive Communities and Workplaces." She also presented at YWCA Rock County's Fifth Annual Racial Justice Conference, stressing that accurately teaching history is a fundamental part of being able to address racial challenges today.
Most recently, Battalora presented at The King Center in Atlanta, marking Dr. Martin Luther King Jr. Day. Her discussion was titled "Beloved Community: The Fierce Urgency of Now." Jamil Smith, senior writer for Rolling Stone, moderated the event and presented Battalora with different quotes from Dr. King's speeches that she utilized to engage her audience to instill a better understanding of systematic racism. Beloved Community Talks were created to promote humanity and build a bridge across racial divides. She also spoke at Next Steps' Repairing the Harm, discussing how racism and other oppressive systems like sexism, homophobia and classism marginalize some while maintaining power for others. Next Steps was formed to address the role parents and guardians play in closing the opportunity gap in racially diverse schools.
In addition to presenting at conferences, Battalora will also be featured in the upcoming documentary "The American LOWS," which is an interview-based documentary that examines the global system of white supremacy and the evolution of that system in America.
The SXU community commits itself to its core value of diversity to work alongside Battalora to identify how oppression is perpetrated against communities of color and how to change systems that reproduce racial inequality. Esteemed faculty like Professor Battalora strengthen our academic programs with their research and pedagogy on racial inequality, preparing students to live and work in a diverse society and global economy.
"The purpose of higher education is to pursue truth and promote the public good. I hope that my research, writing, teaching and lecture serves to advance both and increase the respect and dignity that we bring to our interactions and communities," said Battalora.
Battalora is nationally recognized for her work. She is a former Chicago police officer and the author of the 2013 book titled, "Birth of a White Nation: The Invention of White People and Its Relevance Today." Dr. Battalora is a lawyer who received her Ph.D. from Northwestern University and has engaged in anti-racist training since the mid-1990s.
---