SXU Professor Named President of Illinois Association of School Nurses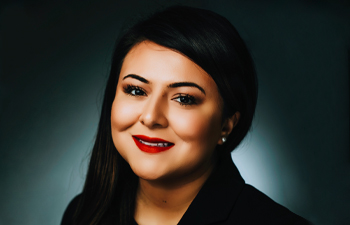 Saint Xavier University (SXU) adjunct nursing professor and alumna Gloria Barrera '07, MSN, RN, PEL-CSN, has been inaugurated as president of the Illinois Association of School Nurses (IASN). Barrera was inaugurated during IASN's 63rd annual conference, The Year of the Nurse: Celebrating Health Healing and Leadership.
As president, Barrera will serve as the official representative and will represent the association at relevant Illinois State Board of Education (ISBE) meetings, National Association of School Nurses (NASN) meetings and other public health arenas for school nurses.
Barrera was elected in October by members of the association. Her platform was based on increasing IASN's visibility and engagement with members through educational offerings and other innovative ideas. She has already implemented new projects during her leadership, including an IASN storefront, a virtual book club and town hall meetings.
In addition to those projects, Barrera plans to begin publishing a quarterly IASN newsletter, increasing engagement and visibility on social media, improving the navigation of the association's web page, assisting with the planning of educational offerings and more.
"I have a great team of leaders on my board and I am looking forward to our collective work together," said Barrera. "IASN is an organization all school nurses can depend on, and I aspire to inspire others to connect with IASN and give back to this profession."
In her role, Barrera hopes to amplify the voices of school nurses at the local, state and national level, all while working together to address the health inequities faced by so many students and families as a result of the COVID-19 pandemic.
"School nurses were at the front lines before stay-at-home orders went into effect. Over the summer, many of us answered the call to action and donated personal protective equipment (PPE) to our colleagues, volunteered at COVID-19 testing sites, donated blood, served on various task forces and supported students by delivering meals," said Barrera. "We are now serving in the tremendous role as front line health care providers mitigating the impact of COVID-19 in our schools by isolating, contact tracing, ensuring adherence of Illinois Department of Public Health (IDPH) guidelines, managing cases and more."
Barrera knows that the role of a school nurse is essential to the health, safety and well-being of students, staff and communities across the state of Illinois. "If you have school-aged children in your life, be sure to always ask, 'Where is the school nurse?' Having access to one is vital and improves health outcomes."
---