/
/
/
SXU Ranks No. 2 in Alana Yaksich National University Flu Vaccination Challenge
SXU Ranks No. 2 in Alana Yaksich National University Flu Vaccination Challenge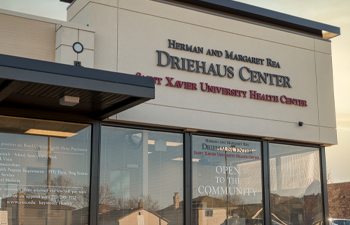 Saint Xavier University (SXU) is ranked No. 2 in the small school standings category of the Alana Yaksich National College/University Flu Vaccination Challenge for the 2020-2021 year. Alana's Foundation is a non-profit organization and was founded in 2009 in memory of Alana Yaksich. Though she was a healthy girl with no underlying conditions, she died at the age of 5 in February 2003 just 48 hours after developing flu symptoms.
Alana's Foundation outreach works to engage the community with Zoom presentations, media coverage and programs focused on the importance of early flu vaccinations. The vaccination challenge is part of the Alana's Foundation mission, which is to prevent deaths caused by influenza, a vaccine-preventable disease, and provide support for families whose child has died from any illness. The competition helps to spread awareness and serves as a tool to help colleges and universities nationwide to increase their flu vaccination rates for their students and communities.
Alana's Foundation also supports families in need and works to keep students and communities healthy and flu-free on an ever-expanding scale by providing funding for no-cost flu vaccines to students who are uninsured or underinsured. This year, employees and friends of SXU have made generous donations which were matched by Alana's Foundation to provide free flu vaccines to some students.
"SXU's ranking in a competition like this shows that we are increasing the flu vaccination rates on campus and in the surrounding community as compared to other small schools," said Kathy Rohan, director of the SXU Health Center.
Now more than ever, it is important to get an annual flu shot to help mitigate the strain on the health care system. An annual seasonal flu vaccine is the best way to help protect against the flu and serious complications related to the flu. It is also critical because the strain of the flu virus changes over time, which means doctors come out with a new vaccine every year.
"It's important to stay current and get vaccinated every year, preferably in the fall, but any time before or during flu season is better than not getting it at all," said Rohan.
To protect against the flu, it's important to wash hands regularly; avoid touching the face, eyes nose and mouth; and stay home if not feeling well. The Health Center will continue to provide flu vaccines through the entire flu season and currently offers curbside immunization services. The Health Center is also open to the community year-round to provide care to those who still get ill through both tele-medicine and in-person visits.
For questions or to schedule an appointment, contact the Health Center at 773-298-3712.
---