SXU Ranks on 2021 List of Best Colleges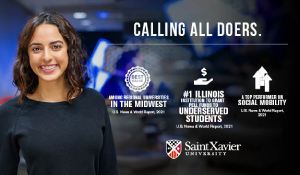 Saint Xavier University (SXU) continues to receive annual accolades from U.S. News & World Report. In the 2021 edition, released September 14, SXU was named a "Best Value School," a "Best Regional University" and one of the top performers for "Social Mobility" in the Midwest. Saint Xavier was also recognized this year for the second time for its national ranking for "Best Undergraduate Business Programs."
For the second year, SXU has been named a top performer in "Social Mobility," and for the 2021 year, SXU ranks within the top 15 regional institutions in the Midwest. Ranking is determined by the extent to which a college or university educates more economically disadvantaged students at lower tuition and graduates them into profitable careers. SXU is committed to eliminating racial and socioeconomic achievement gaps and increasing graduation rates, as part of the Illinois Equity Attainment (ILEA) initiative and leverages every available resource to provide transformative educational opportunities to improve the lives of students in greatest need.
For the fifth consecutive year, SXU has been identified as a "Best Value School" in the Midwest among regional universities. Knowing which institutions can provide exemplary education at the right price is incredibly important for beginning students. While evaluating these rankings, U.S. News & World Report evaluates a school's academic quality and the net cost of attendance for a student. The higher the quality of the program and the lower the cost, the greater the value. As service to the underserved is a core value of the institution, SXU strives to provide an equal opportunity for all students to receive quality education.
For the third time in three years, Saint Xavier University, which is a recognized Hispanic-serving institution, has also been ranked as one of the most diverse schools in the Midwest region, ranking in the top 15 regional institutions in the Midwest for racial and ethnic diversity. SXU also ranks No. 1 in Illinois and third in the greater Midwest for economic diversity, with 57% of undergraduate students receiving federal Pell Grants for low-income students.
As a "Best College for Veterans," Military Friendly® and Yellow Ribbon institution, Saint Xavier is proud to serve its student-veterans with access to resources and services to help them transition into the classroom and succeed in completing their degree. SXU was also named one of the 2021 "Best Regional Universities." According to U.S. News & World Report, each school is placed into a category based on its mission and, in some cases, location. Data is then gathered for each school in up to 15 areas related to academic excellence.
SXU was nationally ranked for "Best Undergraduate Business Programs." All institutions ranked are AACSB-accredited and are based on having the best programs in business specialty areas such as accounting, finance, marketing and management. SXU's Graham School of Management (GSM) provides a comprehensive, innovative curriculum matched with experimental learning to prepare students to serve as leaders in business.
"These rankings are a direct reflection of our Mercy mission, and reaffirm why we are here – to provide a transformative and affordable Catholic education that develops competence and character while preparing students for fulfilling lives and successful careers. I am proud of our incredible community for continually exceeding expectations to serve students and each other regardless of the external challenges facing all of us at the moment," said SXU President Laurie M. Joyner, Ph.D.
Learn more about SXU's undergraduate programs, graduate programs and degree completion programs. For more information about SXU's 2021 university rankings, visit U.S. News & World Report's website.
---