SXU Student Completes Reign as USA National Miss Illinois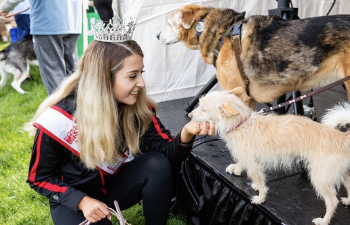 Saint Xavier University (SXU) communication student Sara Toth has recently completed her reign as USA National Miss Illinois 2019. Toth, a winner of the SXU Comm-101 speech competition, has been involved in pageants for over seven years and considers earning the title a dream come true. She has competed in National American Miss, Miss Teen Illinois USA, Sunburst and Miss Teen Chicago.
As part of the requirements and responsibilities of the role, Toth was involved in community service and volunteer efforts. She represented two platforms: animal cruelty and the basic needs of children, both of which are Toth's passions. Toth led Chicago's Anti-Cruelty Society's 2019 Bark in the Park 5k and volunteered at Safe Humane Chicago's Diamond in the Ruff auction, raising money to fund programs that help shelter animals. Toth's own dog, Mojo, is rescued from a shelter and had been brutally abused. "Seeing his life change right before my eyes gave me an incentive to help every other animal in need of care and love," said Toth, who drew her platform devotion and inspiration from her real-life experiences.
Toth has volunteered for a number of other organizations, including Feed My Starving Children and Gigi's Playhouse, a fashion show event for girls with Down syndrome. Toth finds that many of the causes she assists in support the University's core values, particularly when it comes to service and compassion. She urges the community to communicate about and take responsibility for ensuring children have basic needs like food, water and shelter. "Getting the opportunity to spread the word about these phenomenal organizations has been such an honor and makes me feel so empowered and full of joy," said Toth.
Toth believes she can connect the values she learned in pageant competitions to her academic career and throughout her life. "For me, the commonality that connects pageantry with SXU and volunteerism is communication. We must use our voices to speak up for those in need. At SXU, there is so much diversity, and each and every student gets the opportunity to get help when needed. It's so comforting to know there is a large support system there with me every step of the way, and the communication between students and faculty is great," said Toth.
Toth anticipates graduating in spring 2021. As a commuter student, she appreciates that the campus is easy to get to and loves the smaller class sizes. "The student-to-professor ratio is perfect for me. I am always able to ask questions, speak up in class and have a more customized, one-on-one education. It's such a bonus that my classes have been interesting and fun to take. I am so excited to graduate and proud to be an SXU student!" added Toth.
Toth encourages the SXU community to remember that their small actions can make big impacts. "If volunteering doesn't suit you, try to make others' days better in some way. I always say, 'make the person you are talking to better than they were before they met you.' A smile, compliment or even just adjusting your tone when you speak to others is a starting point. We only have one life to live—make yours memorable by being kind, helpful and gracious. It's never too late!" said Toth.
---