/
/
/
SXU Student Invited Into Selective American Speech-Language-Hearing Association Program
SXU Student Invited Into Selective American Speech-Language-Hearing Association Program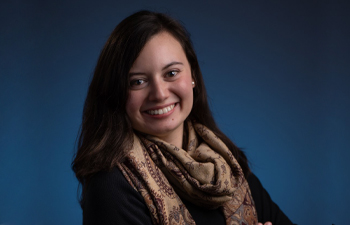 Saint Xavier University (SXU) graduate communication sciences and disorders (CSD) student Sarah Salazar has been invited into the American Speech-Language-Hearing Association's Minority Student Leadership Program (MSLP). The program is very selective and competitive, traditionally only accepting 40 students across the nation each year.
MSLP is a leadership development program established for CSD students and focuses on recruiting and retaining racial and ethnic minorities that have been historically underrepresented in the professions of audiology and speech-language pathology; providing educational programming and activities to enhance leadership skills; and providing an opportunity for participants to interact with leaders in the professions of speech, language and hearing sciences.
Because of the COVID-19 pandemic, the American Speech-Language-Hearing Association opened the program to all who wanted to join this year, and nearly 300 students of color and underrepresented students joined the program and were honored by a virtual event.
"When I was invited to join the program, I was thrilled, just ecstatic. I am a Latina -- Colombian and Mexican, and felt so much vibrancy in that space. This was a very huge honor, and I so enjoyed getting to see all of these unique faces, hear their thoughts and learn about their variety of skills," said Salazar. "It's really about connectedness – being able to connect with individuals who need support in the field and have had similar life experiences."
In addition to being invited to join MSLP, Salazar was also elected into the National Student Speech Language Hearing Association's (NSSLHA) Inclusion, Diversity, Equity and Action (IDEA) group. As part of IDEA, she works to create a welcoming space for CSD students and participates in their "Raw Conversations" speaker series. During these sessions, the group focuses on diversity, equity and inclusion in relation to the speech-language pathology field and works on bridging the gap to help form an anti-discriminatory and anti-racist society. Their strategic plan includes increasing cultural competence, cultural humility, sensitivity, diversity and inclusion; working to better understand the needs of and expectations of students from all intersectionalities; creating pathways for members to increase multicultural engagement; and establishing and maintaining ongoing collaborative communication across CSD-related organizations.
"These events create opportunities to unmask ourselves and discover each other's truths. We can be vulnerable with each other and iron out misunderstandings or other things we might not know," said Salazar. "We are also planning on beginning a book club in partnership with professors who are very invested in this work."
Speech-language pathology is very close to Salazar's heart. She knew she wanted to be a speech-language pathologist since she was 16 years old. After her father suffered a brain injury from falling off his bike, he had to go through 9 months of rehab. As Salazar attended therapy sessions with him and witnessed the patience, enthusiasm and care the speech-language pathologist shared with her father, she knew she wanted to help people recover.
Before starting her journey at SXU, Salazar studied psychology and then took two years off from school to work as a U.S. Fulbright English Teaching Assistant (ETA) abroad and shadow an elementary school's speech-language pathologist. At SXU, she has been very involved on campus, working as a graduate assistant for Campus Ministry and within Residence Life.
"SXU has become a home. I am very invested in the community. Choosing to go to SXU has been a huge blessing because I am able to work in and serve the city that has made me who I am, and I get to work with such a beautiful, diverse variety of people. I rave about the Ludden Speech and Language Clinic, which is free," said Salazar. "It's really special to me and a great example of our dedication to service."
Salazar credits the education she is receiving at SXU for preparing her for her role within the leadership program and for her future career. She is currently working on investigating diversity training and how confident speech-language pathologists feel serving linguistically and economically diverse clients. Salazar especially appreciates professors like Giselle Núñez, Ph.D., who has mentored her during her time at SXU and is helping Salazar with her thesis.
"I've been Sarah's professor, master's thesis advisor and mentor over the past year and a half, and I congratulate her on her acceptance to the Minority Student Leadership Program through the American Speech-Language-Hearing Association," said Núñez. "This is a very competitive program, and I am thrilled that Sarah was accepted and had the opportunity to attend. Sarah is mature, motivated, kind, thoughtful and a confident young adult. I cannot wait to see what other goals she achieves as a young professional."
In the future, Salazar plans to continue her education after more clinical experience and is interested in teaching in a higher education setting. She also hopes to start a mentorship program for high school and undergraduate students to recruit more students of color into the speech-language pathology field. She anticipates that the program will provide one-on-one support, group meetings, group discussions about the field, networking and presentations from other speech-language pathologists.
"As far as I know, a program like this doesn't exist in Chicago, so I'd love to launch it," said Salazar. "In my life, I emphasize leadership. It's a common thread with my work, and I always ask myself how I can grow to be the best leader I can."
---