SXU Student Starts Herban Grown, Non-Profit Organization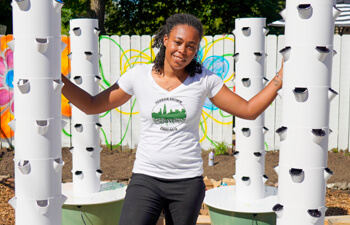 Saint Xavier University (SXU) nursing major Chrystal Whitfield started her non-profit organization, Herban Grown, with one mission in mind – to revitalize underserved communities by cultivating underutilized areas to create safe spaces for learning, gardening, recreation and activity.
Whitfield, who is enrolled in the LPN to BSN program and also part of the Student Veterans Alliance, first grew to love gardening when she began growing fruits and vegetables in raised beds in her backyard two years ago. After witnessing how the rioting and looting that took place in early June devastated the low-income areas of Chicago, Whitfield saw the need to rebuild and give back some of the critical resources lost. "Instead of just sitting back and watching the devastation, I decided to act and contribute to the community by doing what I've grown to love: gardening," said Whitfield.
Whitfield began her work on a Facebook post seeking to find space to start a community garden, and in a matter of weeks, she received overwhelming feedback on locations and from people who wanted to volunteer. With the help of Laurinda Paschal-Dodgen, the director of Community Engagement for Molina Healthcare, Whitfield was able to get full funding for her garden. Molina Healthcare's sponsorship and support of her endeavors allowed the idea to blossom into a fully-functionable community garden space for the Englewood neighborhood.
The garden has raised beds, an entertainment shelter, solar-powered aeroponic towers that hold up to 337 plants, and paint provided by the organization Paint the City. As Whitfield works, she consistently keeps SXU's core values in mind. "Similarly to SXU, Herban Grown's goal is to serve the community wisely and compassionately. I grew up in Chicago's Auburn Gresham, and I'm very passionate about providing resources to these underserved communities and showing them that people do care about their health and well-being," said Whitfield. "Also, like SXU, we strive to support human dignity and the common good. No matter what race, color, creed or class you belong to, our gardens are open to all, and together, we strive to continue to work toward the common good."
As Herban Grown grows, Whitfield hopes to bring the concept of community back to under-resourced areas of Chicago, believing that her gardens and spaces can provide a light in the dark and sense of hope. "These urban communities battle violence, poor nutrition, food deserts and high incidences of health-related illnesses, like hypertension, diabetes and obesity, and I want to provide programs that help the community to combat these issues," said Whitfield.
During the month of October, Herban Grown will be conducting a coat drive, where they will collect new coats, hats, gloves and socks. The SXU community can participate by dropping these items off at the SXU collection point, WAC L-209, outside the Student Veteran Resource Center. The drive will culminate in a fall festival, which will be held on October 31 from 2 to 7 p.m. at the 69th and Stewart Block Club Garden. At the festival, Herban Grown will distribute the drive's collection items to those in need. There will also be a scavenger hunt and other activities for children, as well as treats and light refreshments.
Up next, Herban Grown will take part in an initiative started by Molina Healthcare, helping to install wooden food pantries in 20 locations around the city of Chicago, including at their Englewood garden. Over the next year, Whitfield plans to produce more gardens, including a wellness garden and a sensory garden for those with sensory disorders.
"The work that is being done in my organization is not only vital to these underserved communities but to all of us. In less than 60 years, there is predicted to be no more farmable soil that can be used for growing. We need to start giving back to our land so it can continue to give back to us for future generations. I encourage the SXU community to help clean and beautify areas that need to be revitalized," said Whitfield.
As Herban Grown continues to grow, Whitfield invites qualified individuals, including those with legal background, board experience, accountant or treasury experience and institutional experience to become part of Herban Grown's board of directors. To learn more about and support Herban Grown, visit their website.
---