SXU Welcomes Gwendolyn George as New Dean of SONHS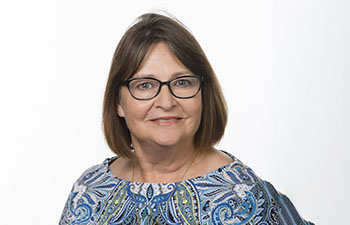 Saint Xavier University (SXU) proudly welcomes Gwendolyn George, DNP, APRN, FNP-BC, as new dean of the School of Nursing and Health Sciences (SONHS). George comes to SXU from Loyola University New Orleans, where she initially began her career as an instructor, eventually progressing to assistant professor and program coordinator of the Graduate Nurse Practitioner program. As program coordinator, she led the development, implementation and accreditation of the first Doctor of Nursing Practice degree program in the state of Louisiana.
George's main scholarship interest is in the area of health policy, curriculum development and graduate education, and she has sustained clinical practice, strongly influenced by homeless and indigent populations. George has worked at the state and national level on policy issues for nurse practitioners and health care access.
George has co-authored a nursing education book and has received the Nightingale Award for Nursing School Administrator of the Year. She is also the first recipient of the DAISY Faculty award, which recognizes outstanding academic nursing faculty. She's also been recognized as an outstanding student advisor. Much like the community at SXU, George is intensely service-oriented and committed to assisting the underserved, and she's made many positive contributions to her community through her work at the New Orleans Faith Health Alliance and the St. Joseph Rebuild Center.
George has spent the majority of her academic career and clinical practice experience working with Catholic organizations, and when she reviewed SXU's core values and mission statement, she was certain the opportunity to lead SONHS was a good fit. "My philosophy is that the student is at the center of all we do. It is our responsibility to meet students where they are and help them to achieve their highest potential," said George, who plans to learn as much as possible about the University and its community.
George strongly believes in the Saint Xavier mission and vision, and she is committed to working with the SXU community to ensure the vision is being achieved. "I promise to be clear in my communication and listen to new ideas, concerns and solutions. I want to create an environment where people are happy to come to work and are empowered to do their best work," said George.
George looks forward to her future with the University and the goals she believes the faculty and students will accomplish under her guidance. "My goal is to ensure that SONHS continues to have the resources to provide the courses and programs with quality and excellence. I plan to look for opportunities for SONHS to partner with the Graham School of Management (GSM) and College of Arts and Sciences (CAS) for interprofessional courses or to join programs. I'd also like to grow new programs and build on the current programs that are offered," said George.
In her free time, George is an avid reader who loves to travel, paint and create things. She also likes to bowl. "I was excited to see that Saint Xavier has a student bowling league!" said George.
When asked what advice she has for current SONHS students, George said, "My advice to current students is to always remember that you are enough. When things are tough and classes are difficult, ask for help, but never doubt your ability to achieve. I look forward to watching our students grow both personally and academically and go out into their communities and make a difference."
---