SXU Welcomes Mark Rosenbaum as New Dean of Graham School of Management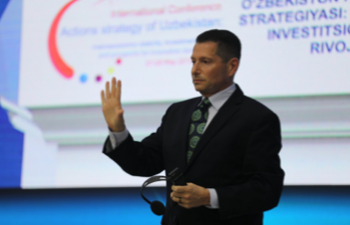 Saint Xavier University (SXU) proudly welcomes Mark Rosenbaum, Ph.D., as new dean of the Graham School of Management (GSM). Rosenbaum comes to SXU from the University of South Carolina, where he served as professor and chair of the Department of Retailing. He is a research faculty fellow at the Center for Services Leadership at the W.P. Carey School of Business at Arizona State University. Rosenbaum is also a three-time Fulbright recipient, co-editor of the Journal of Services Marketing and an associate editor at the Journal of Business Research. Rosenbaum has a long list of accomplishments, ranging from scholarly to service, and his research focuses on challenging service issues for retailers working with consumers experiencing aging, life-cycle and health issues and non-medical cancer care.
Rosenbaum was attracted to SXU because of its dedication to service excellence. "I have dedicated my academic career to exploring the role of services among students, alumni, residents, faculty and staff with service quality in a manner that enhances individual and communal well-being," said Rosenbaum.
Born and raised in the Chicagoland area, Rosenbaum is delighted to return. Rosenbaum currently resides with his spouse in Naperville and his family includes a West Highland White Terrier named Isaac. Although he has lived in places such as Hawaii, Arizona and South Carolina, he always returns to Illinois, noting that despite its challenges, it holds many opportunities for success. Rosenbaum's working career began at Chernin's Shoes in Morton Grove. "There is a saying about treating the janitor with the same respect as a CEO, and I began my career working as a janitor," said Rosenbaum, looking back at his introduction into a world of business, hospitality and service.
When asked what plans he has for his future with the University, Rosenbaum said, "I plan to focus on developing GSM's service programs and striving for service excellence. The faculty and I want to build the GSM identity around developing business leaders for personal, professional and service excellence." Rosenbaum also wants to ensure students are well-prepared with entrepreneurial skills and is planning on developing an ecommerce partnership with a major global partner. "My goal is to have every GSM marketing and management student design at least one online business before he or she graduates. I want to focus our curriculum on helping our students obtain meaningful employment and to balance technical skills obtained in GSM with communication and interpersonal skills that are part of the business curriculum," said Rosenbaum. He wants students to feel prepared for careers in service industries including accounting, banking, hospitality, health care and retailing--industries that characterize Chicago's economy.
SXU's provost, James MacLaren, Ph.D., is delighted to welcome Dr. Rosenbaum to SXU. "Mark is an active and published scholar and brings energy, ideas, enthusiasm, vision and a commitment to student learning and service that will help propel GSM and SXU forward. His connections to Chicago will be a significant asset as the school enhances relationships with the local business community. His experiences as a Fulbright Scholar will also help internationalize students' education in many positive ways," said MacLaren.
Rosenbaum looks forward to his future with GSM and the many things he believes the faculty and students will accomplish under his guidance, planning to work closely with them to ensure programs are focused on the needs of Chicago's leading service organizations. "We want our students to serve wisely and compassionately. While GSM is outstanding in areas such as business, accounting, finance, hospitality and an emerging area in health care management, the focus of GSM is service."
SXU is thrilled to welcome Dr. Rosenbaum and looks forward to watching GSM flourish!
---