/
/
/
SXU's Academic Success Coaching Program is Excellent Resource for Nursing Students
SXU's Academic Success Coaching Program is Excellent Resource for Nursing Students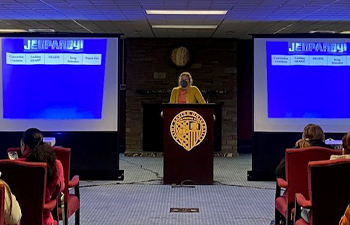 Saint Xavier University's (SXU) Academic Success Coaching (ASC) program is here to help nursing students reach academic success.
Initiated several years ago, the program was designed to provide additional support for nursing students. The program was started by nursing professor Patricia Kelly and is carried on today by nursing faculty Katie Soso, MSN, RN, CNE, CPSN-R, ISPAN-F, and Carly Bruno, FNP-C, MSN, RN, who meet with students to identify and address areas of opportunity and offer expert insights regarding study techniques, test-taking strategies, and resource identification. The program also offers workshops addressing frequently-identified areas of opportunity.
"The goal of our program is to promote academic success. Whether it be meeting with a current probationary nursing student, reviewing time management strategies with a student who is feeling overwhelmed by the demands of the program, or discussing strategies with a student who feels that their exam scores don't reflect their efforts, we strive to help our students be successful," said Bruno.
The coaches also work to ensure that students understand the material, not just for one course but throughout their clinical program so that they develop an expert knowledge base to draw from to provide safe and effective patient care. The coaches are also determined to help the students feel like they are supported and not alone, especially since the nursing curriculum requires a good amount of application of content.
"We hope that students who take advantage of our services recognize that ASC referrals are not intended to be a punishment. They are simply an additional layer of support to give an extra boost to those who need it," said Soso.
This program is unique from those offered in the Learning Center or through the Center for SUCCESS, as the coaches are nursing faculty who are familiar with the circumstances and challenges of being a nursing student, as well as the course expectations placed on students. While the program is mostly focused on undergraduate students, research and services are offered to graduate nursing students as well.
Soso and Bruno are in the process of implementing a series of workshops for the rest of the semester, including a series of concept-based workshops for important pharmacology exams. They plan to continue to introduce new workshops as the program continues.
Since implementing the program, Soso and Bruno have seen a decrease in the number of nursing students who have been on probation, and the majority of students who participate in the program have successfully completed their NCLEX exams and have become registered nurses. It feels especially amazing to the coaches as there are only two of them, and they're able to assist a high number of students.
The students who benefit from the program say that it makes all the difference between success and failure. Many continue to thank their coaches well after they graduate.
"My success coaches at Saint Xavier helped me gain success. Throughout my time at SXU, Professor Soso was my success coach and NCLEX coach. The programs at SXU have guided me to pass the NCLEX on the first time around, and they even helped me land my dream job as a pediatric nurse," said nursing alumna Catie Delisi '20.
---