Four SXU Grads Work to End Domestic Violence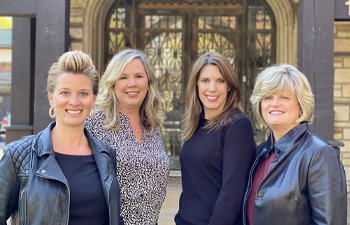 From left to right: Jessica McCarihan, Nancy McMorran, Marie Ferro-Lusk, Monica Carey
Four Saint Xavier University (SXU) alumni are working together to end domestic violence. Monica Carey '82, '98, Marie Ferro-Lusk '15, Nancy McMorran '16 and Jessica McCarihan '16 all serve on the Board of Directors for A New Direction (AND), an organization that provides counseling, education, support and advocacy to individuals and families affected by domestic violence.
Started by McCarihan and a grassroots group of community members in 2011 after the primary Beverly/Morgan Park neighborhood domestic violence agency closed, AND celebrates its 10th anniversary this year and has a vision to help every home be safe and free of domestic violence and abuse and to break the cycle of violence for future generations. AND is the only domestic violence organization located in the Beverly/Morgan Park community, but the services are available to anyone who needs them from any community.
McMorran serves as board president with Ferro-Lusk as vice president. McCarihan is executive director and Carey is a board member. Currently, AND has a fully female board and staff. AND offers outreach, programming, teen dating violence presentations and introductory domestic violence presentations, where they discuss myths, types of violence and how to connect a victim to resources. McCarihan has even spoken internationally about domestic violence and helped develop the curriculum and training for thousands of salon professionals across the country.
The four stress that domestic abuse is staggeringly more prevalent than the average person might think and happening in every community. One in three women will experience domestic violence at some point in their lifetime, a statistic that the women say is a call to action.
"We've really focused on expanding outreach services so that we are not just an agency that provides advocacy and therapy – we're a group that tries to stop it before it even starts," said McMorran.
"I couldn't believe the statistics on sexual abuse, harassment, stalking and violence. I've trained police officers, nurses, judges, community groups, sororities and fraternities, and I've gone into high schools to talk about teen dating violence. We are progressive in our teachings and aim to empower both young women and men," said Ferro-Lusk.
The group finds the work they do critical and meaningful. Both devastating personal experiences and knowledge of domestic violence statistics are what drives the women of AND to fight for the cycle of domestic violence to be broken.
"The work AND does is geared toward people of all demographics. It can surprise people how far the span of domestic violence goes, who it affects. I am really proud that our agency has been able to shed light on this in our community and beyond," said Carey.
"It is so gratifying to watch our survivors free themselves and turn into advocates. They've empowered themselves to empower others," said McCarihan.
Skills the women learned from SXU's Graham School of Management (GSM) are utilized in their everyday work at AND and within other business pursuits. Currently, McMorran is the president and managing broker for Lamiline, Inc. Ferro-Lusk is the director of the Office of Student Accessibility Services at Rush University Medical Center. McCarihan is the sales marketing manager for FBRK Impact House, and Carey is retired from teaching but hard at work as an AND board member.
The four are grateful for their time at SXU and especially appreciated that their instructors had industry experience. They felt that the marketing tools they learned in their courses were invaluable, as they used them in building brand awareness for AND. They're also thankful for SXU's mission and core values, which they integrate into their work daily.
"Our organization is directly aligned with SXU's mission. We want to help those who may not have the resources or ability to get out of a situation without our services. It takes a lot of compassion. Our services are tailored to the individual to help them restore dignity," said McCarihan.
"Our agency is about reaching out to women in need, and a lot of that philosophy came about from Saint Xavier and the Sisters of Mercy," added Carey.
While at SXU, McMorran served as vice president and then president of the GSM Graduate Student Advisory Council and was a member of Beta Gamma Sigma, the international business honor society for AACSB-accredited institutions. McCarihan earned the Outstanding Marketing Student Award.
The four cite SXU professors Bruce Lipman, Joe Cherian, Ph.D., Deb Rapacz, Eileen Quinn Knight, Ph.D., Indranil Ghosh, Ph.D., Joel Sternberg, Ph.D. and Monzurul Hoque, Ph.D., as some of their most influential mentors, who they found accessible, knowledgeable and robust in their teaching. The women of AND still keep in touch with their professors to this day.
Perhaps most gratifying for the AND board is that Saint Xavier brought them together.
"One of the greatest things I got from my time at Xavs is the connection to the people in my cohort. If I hadn't met Marie, our outreach program wouldn't be as robust as it is. Where we are now is a direct result of my experience. The four of us provide sounding boards for each other, and we trust each other's thoughts and ideas," said McMorran.
"The small group collaboration at SXU creates these relationships and bonds that carry over to post-graduate work. We all live in the same community, got our degrees in the same place, and are proud we attended SXU. This institution created intelligent, entrepreneurial, impact-driven women," added McCarihan.
Up next for the organization is continuing work on their strategic plan and their inaugural Golf Outing: Chipping in to End Domestic Violence. Supporting the golf outing and other events helps AND continue in its capacity to connect victims of abuse with vital resources.
To learn more about how to help, visit AND's website or send an email to info@anewdirectionbmp.org.
---