Join SXU for We Are SXU Day March 24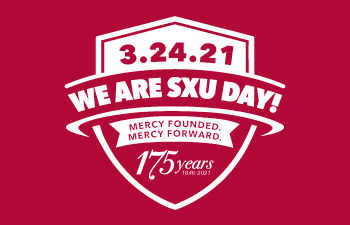 Saint Xavier University's annual day of giving – We Are SXU Day – will be celebrated Wednesday, March 24. This year, we join together with great jubilation to celebrate the incredible milestone of 175 years of providing a quality Mercy education to our accomplished students!
We Are SXU Day is a 24-hour, participation-driven effort. To honor the 175-year legacy of excellence, for the first time ever, Saint Xavier will hold a Pace Setter Challenge. Thanks to a generous donation from Patricia '83, chair of the SXU Board of Trustees, and Jim Morris, donations made before We Are SXU Day will be matched dollar for dollar, up to $15,000.
Giving to the Saint Xavier Fund impacts change across the University -- your generosity can help to provide life-changing scholarships, create new internship and networking opportunities, organize mission and service trips and design new spaces across campus that enhance student knowledge and success.
Though the We Are SXU Day celebration will be virtual due to challenges posed by the COVID-19 pandemic, the day will remain one grounded in Mercy spirit and will connect the SXU community in pride. All day long, the SXU community can share why they give and encourage others to do the same by using the hashtags #WeAreSXU and #SomosSXU and sharing photos on social media.
Regardless of the amount, the power of any donation makes a great impact on the University and will help us continue to put SXU on the map for prospective students who are looking for high-quality education with leadership and service opportunities to help them flourish.
Founded in 1846 by the Sisters of Mercy, Saint Xavier is one of the oldest operational educational institutions to remain in the metropolitan area and the first Mercy institution of higher learning in the world. This year's celebration of Saint Xavier's rich 175-year history and dedication to providing generations of students with a high-quality Mercy education make this We Are SXU Day especially meaningful.
"We Are SXU Day is a celebration of what makes SXU such a fantastic place to learn, grow and serve. This year will also commemorate 175 years of academic excellence driven by our Mercy mission," said President Laurie M. Joyner, Ph.D. "Just like the Sisters of Mercy who founded this institution in 1846, we are dedicated to the success of our students and wider community. I look forward to marking this occasion with our students, faculty, staff and network of incredible alumni and friends who support our work and ensure its continuity for generations to come."
SXU calls its entire community, including alumni and friends, to participate in We Are SXU Day. Put on your scarlet and gray and unite with Cougars across the world for this very momentous occasion as we commemorate 175 years as a Mercy institution and come together to show our Cougar pride and make a difference in the lives of future Cougars!
---