Late Saint Xavier Alumna Made Big Impact as Nurse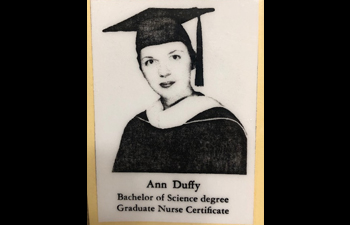 Saint Xavier University (SXU) alumna Ann Louise Connelly '56 (nee Duffy) was a cherished nurse who impacted countless people, both young and old, though her work. Connelly, who passed away on November 7 last year, always wanted to be a nurse, and Saint Xavier gave her the resources, tools and life lessons she needed to become a successful nurse for many years.
Connelly's daughters, Mary O'Rourke and Ann Kavanagh, reminisce over their mother and the special relationship she had with Saint Xavier and her peers, who worked hard to support each other to become the best nurses they could be.
"She loved it – the community, the friends she met. They were friends for life and stood up in each other's weddings," said Kavanagh. "Saint Xavier gave her a sense of importance, security and family."
"They cherished each other's friendships so much and supported each other throughout their college years and beyond. It means that Saint Xavier did something right. At Xavs, she met these women who just loved her and became family for her," added O'Rourke.
Connelly began her nursing career in high school, working as a nursing aid. Her uncle helped her get a full scholarship to Saint Xavier from the Loyal Order of Moose, a community organization. Connelly, who attended Saint Xavier while at its 49th and Cottage Grove location, had to take a bus, then a train and then walk to school.
"She just cared so much about other people and wanted to take care of them. She had this drive to help others. Nursing was her calling," said Kavanagh.
After graduating from Saint Xavier, Connelly began working in the emergency room of Loretta Hospital. Later, she learned that Chicago Public Schools needed school nurses, so she earned her credentials to become a school nurse. After a student fainted in class, she met the late Thomas Connelly, Ph.D., who was serving as a substitute teacher, and the two fell in love immediately and would go on to have seven children.
Though Connelly took some time away from working to care for her children, she missed nursing and later worked at Mercy Hospital in the emergency room and eventually went back to being a full-time school nurse.
"She had such a loving spirit and caring heart. All her patients and the kids at school loved her. I couldn't see her doing anything besides nursing. It was truly her vocation. She prided herself on it. When her granddaughter had her white coat ceremony, they invited everyone to stand up and say the nurse's creed, and you could see the love that she had for nursing in her pride," said O'Rourke.
Connelly's daughters believe that if she could speak with today's nursing students at SXU, she'd tell them to work hard, treat their patients with respect and go the extra mile. She'd also encourage them to live out Saint Xavier's Mercy mission the way she did.
Connelly's granddaughter, who compiled a scrapbook about Connelly's life, interviewed her about her time at Saint Xavier and learned from Connelly, who told her: "The Sisters of Mercy were our teachers, as were the Dominican fathers who taught us philosophy, religion and ethics. We had to work hard and study hard and after that, we had to take care of our patients."
"Mom loved the Mercy mission. She lived by example and she set the base for us. She always talked about how different and special it was to be educated at a Catholic school. She had a real God-centered philosophy in taking care of patients and people," said O'Rourke.
Saint Xavier gave cherished memories to Connelly and her family, including son Tim Connelly '89, who met his wife, Noreen Connelly '86 (nee Mahon) at the college.
The Connellys devoted their lives to their children and their professions of service, nursing and teaching. After retiring, the Connellys traveled the world for nearly twenty years. In addition to their seven children, they shared 23 grandchildren and three great-grandchildren.
---