May is Mental Health Awareness Month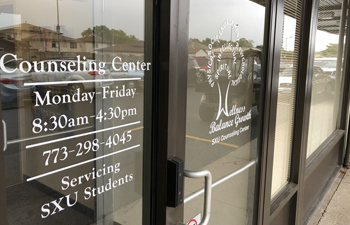 May is Mental Health Awareness Month, and Saint Xavier University (SXU) is dedicated to shining light on a critical issue many face every day and providing tools and resources to help students improve mental health and emotional well-being.
College students have many responsibilities – classes, work, family obligations and more. With many students feeling like they're being pulled in multiple directions at once, the toll can become overwhelming quickly. When anxiety becomes too much, it can dramatically impact students' grades and performances in school and other areas of life. Identifying and working to reduce anxiety early on is important for life-long mental health.
The Counseling Center at SXU offers many services for students with the goal of keeping a more mentally healthy campus. Students are offered individual mental health counseling free of charge, and the counseling is catered to the specific needs of each student. Counselors assist with a wide range of problems, including academic distress, relationship issues, depressive disorders, generalized anxiety and trauma disorders. Counselors also provide referral services to mental health resources in the community for students who are graduating or who may have more specific issues.
The Counseling Center also offers outreach and educational programs on campus, including Mental Health Screening Days, where students can learn about a wide range of issues related to mental health and take a screening for various disorders. The week before finals, the Counseling Center offers stress-relieving events. They also do presentations on health-related issues for classes and student organizations and offer QPR training, designed to train the campus community on suicide prevention. Staff and faculty have access to the SXU employee assistance program, a free program that provides employees with support, resources and information through confidential counseling.
The events of 2020 have had a major impact on the mental health of the Saint Xavier community and beyond. The COVID-19 pandemic left many feeling like they were losing control over their lives and well-being, and that sense of losing control can be a major contributing factor in psychological trauma and disorders like post-traumatic stress disorder. Many responded to the loss of their normal lives with the kind of grief similar to the loss of loved ones and exhibited symptoms of depression, like sadness, lack of motivation and loss of enjoyment.
In addition to the pandemic, communities across the nation grieved over issues of racial injustice. Racism has a severe impact on mental health, and racist acts of violence are contributing factors in the development of psychological trauma, with research revealing that cultural and racial trauma can be inherited in people of a shared background.
"To take charge of their well-being, it is important that members of our community be aware of themselves. If anyone notices that feelings, thoughts and behaviors are starting to change in ways they're not comfortable with, it's critical to ask for help. It's important for people to be kind to themselves. It's okay to not be at 100% all of the time, so don't judge yourself harshly when you're not. We need to be able to admit when we need a break and take time for ourselves to get our heads back into a good place. It's easy to see tasks as one giant problem, but think of it in terms of a pizza – cut it into pieces and work on a couple at a time," said Matthew Marjan, SXU counselor.
If students are struggling to ask for help, they can give the Counseling Center a try with zero obligation. Sitting down and talking to a counselor can often quickly dispel the fears one might have about what counseling really involves. The Counseling Center is completely confidential.
"A myth people deal with is that having mental health problems means you're 'crazy.' We need to take the word 'crazy' out of the vocabulary when talking about mental illness. In reality, mental health problems are far more common in society than most people realize. The National Institute of Mental Health has estimated as many as 20% of Americans have dealt with some kind of mental health problems in their lives, with the majority being able to carry on their daily lives without too much difficulty. It's just sometimes the symptoms of their conditions require extra help via therapy or medication," said Marjan.
The Saint Xavier community cares deeply for each other. Mental Health Awareness Month is an excellent time to spread awareness, share resources and get educated, but mental health care is important every day, and the Counseling Center is consistently focused on providing students the support they need to feel well and succeed. The Counseling Center office is located in the Driehaus Center. Students can learn more or schedule an appointment by visiting the Counseling Center web page.
---