Returning Adult Marketing and Management Student Thrives at SXU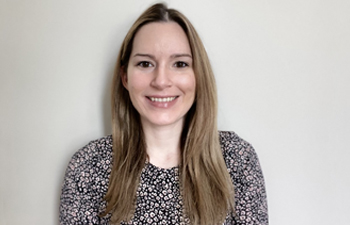 Saint Xavier University (SXU) undergraduate business student Cynthia Bills came to SXU as a returning adult student, and though she'd been away from school for years, she found she fit right into the close-knit community environment.
Bills is currently on furlough from her guest services position at the Grand Sheraton Hotel in Chicago due to the COVID-19 pandemic, which has taken a heavy toll on the hospitality industry, but the emphasis on hospitality and conflict resolution within courses at Saint Xavier's Graham School of Management (GSM) is helping to prepare her for providing excellent service for a positive guest experience when she returns.
Bills was partly drawn to Saint Xavier because she lives in the neighborhood, but once she visited the campus, she found that the small class sizes, close relationships with faculty, Mercy mission and history of the institution were incredibly important to her.
"The history behind Saint Xavier is incredible. The fact that the Sisters of Mercy educated people for whom education wasn't accessible is so awesome to me," said Bills. "Their core values still thrive within the school today and encourage me to consistently try to be the best person I can be."
Bills enjoys business because it is ever-evolving. She enjoys learning about its changing aspects and figuring out how businesses thrive or fail. Within her courses, she's brainstormed ideas of how to reinvent brands through service marketing, learned how to help businesses recover post-COVID, and created social media content for the University. She's even been able to apply the concepts she's learned in her courses to her husband's part-time seasonal business.
"My professors, especially Dr. [Stanley] Klatka and Dr. [Vincent] Cicchirillo have been amazing to learn from, especially when they discuss their industry experience. I love how they always tie ethics into everything. Their willingness to help students to get involved and learn is so important to me," said Bills. "It's so wonderful to utilize what we are learning and try to adopt it to the changing circumstances of our world."
Bills is a part of Beta Gamma Sigma, the business honor society; Tau Sigma, the transfer honor society; and the Women Entering Business organization. She has also earned several important certifications in her courses, including certifications in social media marketing, Google ads and shopping ads.
Bills, an avid lover of the outdoors, lives with her husband and dog, Murray, her biggest supporters. She graduates this May and looks forward to participating in the Commencement Walk. In the future, Bills plans to stay within the hospitality industry, as she enjoys being the bridge for families in helping them make memories. She also plans to eventually earn an MBA, as her return to Saint Xavier has instilled its core value of learning for life within her.
---