Saint Xavier Nursing Cohort Celebrates 40th Reunion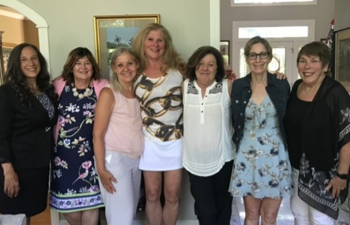 From left to right: Brown, Henneberry, Ortigara, Rasutis, McCarthy, and Menke
Several Saint Xavier University (SXU) nursing alumni celebrated their 40th reunion together recently. Vilija Rasutis '81, Rose Brown '81, Chris McCarthy '81, Christina Athy-Henneberry '81, Jenny Connor '81, Karen Ortigara '81 and Patricia Menke '81 met during clinicals and were a close group during their time at Saint Xavier. Though they've kept in touch throughout the years, their recent reunion was a jubilant, heartwarming experience the group will always remember.
While together, the group reminisced on not only their time together at Saint Xavier College, but what they've been up to over the years and how their time at Saint Xavier prepared them for their enriching careers.
"I started my career in a neurosurgical unit in Toronto and had many unique careers and learning paths, from public health to urology, within both academic and community-based environments. I loved urology and became involved in clinical research and worked with many pharmaceutical companies in clinical trials. From there, I went back to patient care and then worked combining clinical research opportunities with teaching. I've also written papers that were published. I'm currently a senior clinical safety analyst for a biopharmaceutical company. I played on the women's basketball team for a few years and loved the small school feeling and inclusion Saint Xavier provided. I am blessed to say I went to Saint Xavier and now minister the same compassionate, caring experience I received there to my patients, family and friends."
-Vilija Rasutis
"I knew I wanted to be a nurse from the time I was three years old. After graduating, I started out in medical-surgery, telemetry and then intensive care. I love being a nurse because I get to make a difference in our moment's time. I have the fondest memories of my college years. Saint Xavier had a fine reputation and provided an excellent education. My first manager said she preferred Saint Xavier College graduates as they were the finest nurses."
-Rose Brown
"After graduating from Saint Xavier, I received a master's degree in health administration from Rush University. I've been working as a practice manager for a family physician for 24 years. All the nursing courses at Saint Xavier prepared me for my career, and the thing I loved most was making a good core group of friends I am still friends with today. My mother was actually a graduate of Saint Xavier and she went to school on a scholarship given by the Sisters of Mercy. I am proud to tell people I graduated from Saint Xavier."
-Chris McCarthy
"Nursing school was a lot of work, but I didn't mind. I enjoyed my classes and best of all, I met some wonderful friends. I was educated most of my life by Mercy nuns, and I can remember being in first grade and being encouraged to think about joining a profession that helped people. After graduating from Saint Xavier, I worked in intensive care for a year, which exemplified my passions of biology, chemistry and pathophysiology, and then worked in neonatology for 38 years, combining all my passions including a love for children and families. I was one of the first neonatal nurse practitioners in the state of Missouri – it was an exciting time and we were trailblazers in the field."
-Christina Athy-Henneberry
"Since graduating from SXU, I have been a nurse at several hospitals and am currently working as a surgical area specialist for spine surgery at Northshore University Health Systems. I am grateful to have received my nursing education at Saint Xavier, which prepared me well for my career. My clinical group was a unique group of like-minded peers. After 40 years, when our clinical group met again, the conversation and laughter started where we left off at Saint Xavier."
-Jenny Connor
"I was fortunate to have been the recipient of the Saint Xavier College/Mercy Hospital scholarship, which included my fourth year at Saint Xavier tuition-free with the agreement to work at Mercy Hospital for one year. I worked there for 10 years on the medical-surgical floor and was involved with their Mission Integration team. I fell in love with Catherine McAuley's mission to serve the underserved. I also loved being part of Saint Xavier's history. I have many family members, including my daughter, who graduated from Saint Xavier. I thank Saint Xavier for being the best nursing program in the country and preparing me for a lifetime of service."
-Karen Ortigara
"I started working at Mercy Hospital in 1981 and worked in various areas, including medical, critical care unit, and cardiac and pulmonary rehab, for 27 years. I have wonderful memories of my time at Saint Xavier, especially my pathophysiology and anatomy classes. I also had great clinical experiences. I encourage many young adults to choose Saint Xavier for nursing. I loved the privilege of being part of the Mercy community."
-Patricia Menke
Though the group had lost touch for a bit, Brown randomly connected with Rasutis on LinkedIn one day, and the two chatted by phone and had a wonderful conversation. From there, Brown made additional connections and soon the group reunited at Rasutis's home and cried and laughed, embracing one another with warmth and love. Their special story is evident of the lifelong friendships made at Saint Xavier.
"The way we were is the way we are. Our plan now is to get together every three or four months and stay in touch forever," said Rasutis.
---