/
/
/
SXU Alum Named to Crain's Chicago Business 2021 Notable Minorities in Commercial Banking List.
SXU Alum Named to Crain's Chicago Business 2021 Notable Minorities in Commercial Banking List.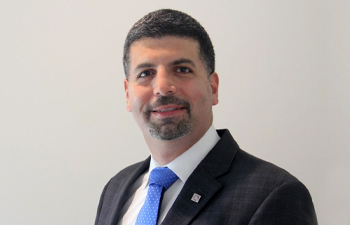 Saint Xavier University (SXU) alumnus Abdullah Y. Tadros '06 has been named to the Crain's Chicago Business 2021 Notable Minorities in Commercial Banking list. Individuals named to the list are minority bankers in the Chicago area who serve as role models, promote inclusive practices and assume leadership positions outside of their organizations.
Tadros, who has eighteen years of experience in commercial banking, is a vice president for First Midwest Bank and a team lead serving on the commercial underwriting leadership team. His team of underwriting professionals support a $1 billion portfolio across a range of industries, including middle market, franchise banking and professional medical lending.
He was honored to be named to the list.
"I am extremely humbled to be recognized. My parents immigrated from Jordan and Palestine in the 1970s for a better life for themselves and their families. My dad came here with $100 in his pocket – his motivation and vision were worth more than any money can buy. Though his life was tragically cut short at age 39, I draw a lot of energy from his memory and ability to keep the long game in mind. I am a first-generation American and the first in my extended family to graduate college. With a strong work ethic and good mindset, all things are possible," said Tadros.
Tadros was nominated for his contributions that have achieved positive outcomes and deepened relationships with clients. He considers himself a lifelong learner and applied his passion for learning by leading a steering committee in developing a curriculum of topics, adding value to learning opportunities for the bank's underwriting team.
One of Tadros's favorite things about working in commercial banking is hearing the stories of his clients and learning about what drives them and how they persevere through challenges. He finds that the stories are fascinating and provide great perspective. He spends significant time building trusting relationships with his clients and feels fortunate to be part of a banking team that supports many great businesses in Chicago.
During the early months of the COVID-19 pandemic, Tadros worked with colleagues across the bank to process Small Business Administration (SBA) paycheck protection program (PPP) loans to several companies throughout the Midwest, funding $1.2 billion to local companies.
"I'm very proud of how we all came together to support each other and our clients during incredibly uncertain months. I don't doubt this team can fill all of Crain's spots for this recognition," said Tadros.
Tadros earned a bachelor's degree in finance from DePaul University before coming to Saint Xavier to pursue an MBA with concentrations in financial analysis and investments. Tadros was drawn to banking after learning about the commercial training programs that allowed him to spend time in different areas of banking to learn what he wanted to do.
Though Tadros was already a commercial banker when he began his education at SXU's Graham School of Management (GSM), he credits his time there for giving him the real-world knowledge to put a little more meaning behind ratios and financial analysis and found he could apply what he was learning in his courses to his job. He especially appreciated professors like Faisal Rahman, Ph.D., GSM's founding dean, who was able to meld academics with entrepreneurism to bring real experiences to his students.
In his free time, Tadros enjoys spending time with his family, playing sports with his three boys and traveling. He believes if success is determined by any measure, it boils down to family and the positive memories created. He and his wife spend lots of time teaching their children about giving back. They are most proud of a lemonade stand their children have hosted the last five years to benefit Feed My Starving Children, raising $10,645. He also spends time with first-generation students, advising them about business and education. He ties it all back to his father, honoring his name by giving back to the community.
Tadros currently serves on GSM's Alumni Advisory Board. He is also on the finance committee advisory board of St. Mary Antiochian Orthodox Church in Palos Heights, an organization for which he previously served as treasurer, vice chairman and chairman. Tadros encourages business and finance students to live with intention and always exercise the SXU core value of learning for life.
"I try to approach every interaction I have with adding value. It's important to continue to learn things so you can be resourceful and add value to situations. It's also important to invest in yourself. We choose what we do every day when we wake up. Be intentional, make it happen."
---