SXU Alum Named Director of Education at New Center for Civil Society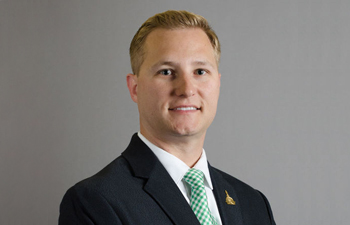 Saint Xavier University (SXU) alum Jonathan Hannah '03, J.D., has been named the director of education for the American Philanthropic's new Center for Civil Society. Hannah will facilitate events online and in person nationally about the role philanthropy plays in American society.
While at Saint Xavier, Hannah studied political science and history. After graduating, he earned his juris doctor (J.D.) from the University of Detroit Mercy and worked as a policy analyst in Washington, D.C. for a year before returning to Illinois. He began work in corporate and foundation relations and taught business at Lewis University before accepting an offer to work at the University of Notre Dame in 2013 on their foundation relations team. After a few years, he moved to the Notre Dame Law School and worked as program director for the program on church, state and society.
He will continue to teach philanthropy and the common good at Notre Dame in the fall, an experiential learning course sponsored by the Philanthropy Lab. As part of his course, political science students visit with local nonprofits, collect grant proposals and act as a board of directors to award $75,000 each fall. He also looks forward to beginning his new role in January.
"American Philanthropic helps nonprofits succeed by providing empirically-based strategic guidance, exceptional services, essential tools and practical training. Its newly launched Center for Civil Society strengthens America's voluntary associations by improving the effectiveness of donors, charitable foundations and nonprofit organizations. We will have meaningful conversations about fundraising, philanthropy and American civil society in a broader sense," said Hannah.
Hannah feels that his time at SXU laid the foundation that prepared him to succeed in academics and in his career. He was drawn to studying political science because he feels it's a study of how society functions and teaches students a little bit of everything, particularly history, business and economics - a great major for those who are curious about the world.
"I received three graduate degrees after SXU, including my master's of law. SXU prepared me by making me a better writer and by teaching me how to research complex ideas and put those ideas on paper in a coherent way. I still remember writing my senior thesis political science paper, and it gave me a lot of confidence going into law school," said Hannah.
Hannah also feels lucky to have received a liberal arts education with dynamic faculty that engaged and challenged students with great lectures and memorable conversations.
"Dr. [Matthew] Costello was my favorite professor throughout my entire academic career. I consider myself incredibly fortunate to have had classes with Dr. Costello that were truly inspiring. He was so generous with his time to me and my fellow students," said Hannah.
Hannah finds that SXU's mission continues to resonate with the work he does today.
"SXU has an amazing mission that teaches students the importance of dignity for each individual. What I enjoyed most about SXU as an undergraduate was the small class sizes, where students could have meaningful conversations with peers and dedicated faculty about the importance of the common good," said Hannah.
Hannah is thrilled to begin his work with American Philanthropic in January and serve as the Center for Civil Society's first director, where he will help to foster important conversations through education, research, publications, webinars, master classes and in-person events.
---