SXU Alum Opens Music Academy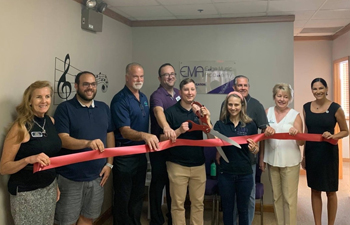 Saint Xavier University (SXU) alum and staff member Jason Thompson '16 has opened a music academy in Homer Glen. This is the second location for Edge Music Academy, which is dedicated to high-quality music education and committed to making music fun and promoting excellence in the community. Thompson also has the distinction of being the first person to graduate with SXU's music performance with a jazz emphasis degree.
After graduating, Thompson began working as a coordinator for Music Admission at SXU. He decided to wait to pursue a graduate degree and chose to study guitar privately with John Moulder, a jazz guitar professor at Northwestern University. He spent time teaching at several music academies and stores in the area before building up his own studio of students and eventually began teaching exclusively at students' homes. With the help of his wife, Beth, Thompson rebranded his business to focus on a goal of offering excellent music education to students and providing jobs for great music teachers, and Edge Music Academy was born. The new studio will offer private lessons in many instruments, including piano, guitar, bass guitar, ukulele, drums, violin and viola, as well as rock band classes. Thompson teaches lessons and handles administration, management and business.
"I hope we become known as the place that finally gave students the breakthrough in their instrument they have always been looking for. We aim to have the best teachers who can show students of all ages real progress due to their experience and formal training but also make music fun and take adults to their goals," said Thompson.
Thompson loves passing onto his students what he gained at Saint Xavier. Thompson was drawn to SXU because he found that it had the benefits of both a large school and a small school.
"The big music school benefits are things such as many ensembles to perform in, many music opportunities on and off campus, great scholarships and lots of masterclasses and guest artists. The small school benefits included one-on-one time with professors, small class sizes and a real community of people on campus," said Thompson.
Thompson majored in guitar performance with a jazz emphasis while studying at Saint Xavier. He was originally drawn to music as a young child and decided to study it as a way to follow his passion. Thompson, who primarily plays guitar, bass guitar, piano and ukulele, finds that his time at SXU took him from being a good guitar player to a great musician.
"Being able to study closely with my professors and perform difficult music in countless ensembles really made me the musician that I am. Many of the skills I learned in college, such as ear training, arranging, composing and improvising, are what allow me to be a top-notch instructor. I often use these skills to teach students songs on the spot and arrange songs so that even a complete beginner can play with songs they love," said Thompson.
Thompson was grateful for his time with Shawn Salmon, D.A., who taught Thompson in many courses. He finds that the level of investment and commitment from professors is what makes SXU special. He fondly remembers countless memories from his time at SXU, including his senior recital, off-campus performances, a guitar ensemble concert miraculously saved by Sister Hoa and ostrich burgers from Wojo's.
"Jason was an exceptional musician and outstanding guitarist, but what I enjoyed most was how excited he was to learn and perform. He was the type of student that forced professors to find ways to challenge him. It is truly an inspiration to all that Jason made his dreams come true with his dedication, persistence and passion. We could not have asked for a better SXU Jazz Cat to call our first alumnus!" said Salmon.
Thompson now dedicates his time to helping others thrive at SXU in his part-time position as coordinator for Music Admissions. He works to increase enrollment and streamline and manage the admission process for students. He sets up outreach events and audition dates, and he is thrilled to remain a part of the community that gave so much to him when he was a student.
Thompson's main focus for the future is to continue to expand Edge Music Academy by opening more locations throughout the Chicagoland area.
---