SXU Alum Prepares Bio Students for Successful Careers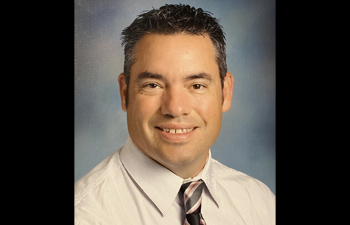 Saint Xavier University (SXU) alum Scott Atkins '94, '99 is currently in his 27th year of teaching biology at Oak Lawn Community High School (OLCHS) and he is hard at work preparing his students for successful careers.
Atkins recently helped one of his students secure a summer biomedical research job at Texas A&M Baylor College of Medicine, where she will research the clinical side of medicine and the cellular mechanisms of cancer.
"With highly-motivated students like Lauren [Licursi], I try to push them to continue building on their current understanding. I try to give them opportunities to do more in-depth exploration of the topics. In lab situations, I have allowed students to take the experiment in a direction that they have suggested, and in Lauren's case, I was able to find a few out-of-school workshops that fit her interest," said Atkins.
Atkins studied biology and secondary education during his undergraduate career at SXU and returned to earn a master's degree in educational leadership. In his teaching, he tries to relate biological concepts to his students' everyday lives by using stories and analogies and providing students with open-ended problems so they become comfortable making claims and justifying them. Atkins's goal is to use biology as a vehicle to improve critical thinking skills and to help students appreciate the incredibleness of the cellular chemical reactions and processes that make life possible.
Atkins, who also led the OLCHS basketball team for 17 years, tries to make his lessons as relative to his students' lives as possible to enhance student interest, but he also stresses their roles in their own personal achievements. He spends time discussing how to use temporary failures as positive learning tools and how to build a personal toolbox for successfully managing adversity.
"One thing I make clear to my students is that they are in charge of their success. I am available to assist them in their studies, but ultimately, they must make the choice to engage. We discuss how mistakes can be learning opportunities and that we have the ability to turn them into positives. I try to get my students to understand how their choices give them power to shape their futures in a positive way," said Atkins.
Atkins also incorporates some technology into his classroom, using iPads for videotaping, taking photos for laboratory documentation and using iPad-compatible oxygen probes to take measurements. Still, sometimes he and his students just make posters with markers and newsprint, something that he says his students enjoy as a break from technology.
Atkins felt that his time at SXU was excellent preparation for his teaching career, and he truly believes he learned a lot about himself and what he was capable of. He enjoyed all of the different perspectives on the world from the people around him, and he especially appreciated his professors.
"I cannot say enough about the wonderful professors I had at SXU. The Biology Department was just incredible. The instructors I had, including Sister Marion Johnson, Dr. Stan Boyer, Sister Frances Crean, Dr. Dale Fast, Dr. Pratibha Varma-Nelson and Dr. William Buckley were so skilled at pushing their students to excel and showing their students they truly cared about them as people," said Atkins.
Atkins has plenty of wonderful memories during his time at SXU, including winning big games on the baseball team, having fun in Regina Hall and participating in late-night biology study sessions. Atkins played baseball at SXU for four years and received an Honorable Mention All-American award his senior year as well as an NAIA Great Lakes Region All-Star award. He felt that his coaches, particularly Coaches John Morrey, Mike Dooley and Tony D'Anza taught him to overcome adversity, be confident in himself, and be accountable and dependable.
"During my four years in the baseball program, I thought my coaches were teaching me those lessons so that I could be a successful student-athlete. When I entered the working world, I discovered they were teaching those lessons so I could be successful in life," said Atkins.
Atkins remained involved with the University even after graduating, including having worked as an assistant baseball coach under Mike Dooley for five years.
Atkins advises current SXU students who are interesting in entering the world of science education to be true to themselves. Most importantly, he reminds them to keep the faith.
"Show your students the passion you have for your subject and show that you care. There are going to be frustrating days when you think you may not be having an impact on your students. You never know when or how, but you will have an impact on them," said Atkins, who has made an impact on many and will continue to do so for years to come.
---