SXU Alum Publishes Book and Audio Documentary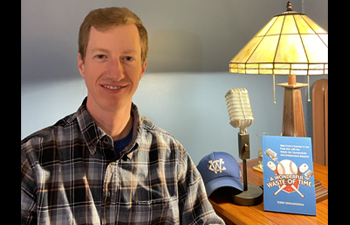 Saint Xavier University (SXU) alum Terry Bonadonna '10 has recently published a book and an 11-episode audio documentary, all for the love of baseball. Bonadonna's biggest passions in life are baseball and radio, and as the lead radio announcer and media relations director for the Windy City ThunderBolts for over 10 years, he gets to be immersed in those passions daily.
The COVID-19 pandemic caused the cancellation of the 2020 season for the ThunderBolts, but it was the perfect time for Bonadonna to complete the two projects. Bonadonna's book, "A Wonderful Waste of Time," was released in November and follows the ThunderBolts from Bonadonna's perspective as a radio broadcaster and gives readers a behind-the-scenes look at unaffiliated minor league ball. The audio documentary, "Chicago's Civil War," chronicles the Chicago White Sox and Chicago Cubs postseason exhibition series, which started in the early 1900s.
"When you work in professional sports, you get to be a part of something really special. Most fans look at things from afar, so to actually be inside it is pretty fun and exciting. I thought I could probably write a book about it, and so I did. I kept a journal throughout the 2017 season and also worked in stories of things that have happened to me in previous years. The reception I've gotten so far has been good, and I hope whoever reads it will find something to laugh or smile about," said Bonadonna.
As lead radio announcer and media relations director, Bonadonna works with coaches and players to make sure the website is up to date, writes player biographies, keeps track of player statistics, works with the press box, other media outlets and newspaper writers, and works with opposing teams' radio broadcasters.
"I love being the guy on the radio who paints the picture for the audience and makes them feel like they are there in the moment. I love just being around the ballpark – the atmosphere and the people. It's the most exciting thing," said Bonadonna.
Bonadonna was named the 2016 Frontier Broadcaster of the Year for his work with the ThunderBolts. In addition to his broadcast position, Bonadonna also teaches radio broadcasting at the Illinois Media School and is a play-by-play broadcaster for the University of St. Francis in Joliet.
"Teaching has been interesting. It's really nice to be able to take a lot of things I've learned over the years –many from my time at SXU-- and help students get to the level I am at and beyond. I love to see people thriving in the media," said Bonadonna.
Bonadonna has been interested in radio since high school, and his love for radio has grown over the years, but being the sports director for SXU's radio station, WXAV, played a huge part in the development of his craft.
"When I was at Saint Xavier, everything I did was training for a career in radio. Every moment I wasn't in class, I was at the radio station. In fact, it was because of SXU that I got the job with the ThunderBolts. As a student, I got to host all kinds of shows and do all kinds of stuff at the station that I would never get to do professionally, so it was great getting to really train myself in radio work," said Bonadonna. "I got to host my own game show, do old-time radio shows and host music shows and sports shows. I still work closely with WXAV to this day. It's a lasting relationship I am really excited to be able to develop."
In addition to his work at WXAV, Bonadonna was also a student ambassador for Saint Xavier. He spent a lot of time promoting the radio at campus events and had a wonderful experience with his communication professors and advisors, especially James Walker, Ph.D., and Joel Sternberg, Ph.D.
"Terry Bonadonna was certainly an excellent student, but what distinguished him most was his confidence in pursuing new challenges. He was always committed to becoming a baseball play-by-play broadcaster, but his ability to do it for so many years and with such excellence is remarkable. It is one of the most competitive and demanding of all media positions. He has now transformed that peak experience into a wonderful new book," said Walker.
Bonadonna also cherishes lifelong memories of trips he took with WXAV.
"My favorite memory was when I went to Tennessee during my junior year. Christian [Ballenger, SXU student] and I were the broadcasters for the women's basketball national tournament. We spent the entire time doing research on the basketball team and it was such a perfect time – working with the SXU basketball game, studying, researching. I felt like I could do it all day. We won that game. I was really living the dream," said Bonadonna.
Bonadonna advises that communication students interested in broadcasting should pursue as many opportunities as possible.
"One of the great things about Saint Xavier is that it gives you a chance to have a training ground without real pressure. It's a student-run station, so there's a chance to make your own mistakes and pursue your own passions. I love that what I did in college is what I do professionally now," said Bonadonna.
As Bonadonna looks to the future, he plans to take his career as it comes but continue looking for different projects and opportunities that interest him.
"People always say, 'don't let your job be the most interesting thing you do,' but for me, it is the most interesting thing I do. I am lucky because radio and baseball are my biggest passions, and I get to live my passions every day."
---