SXU Alum Releases Album, Launches Podcast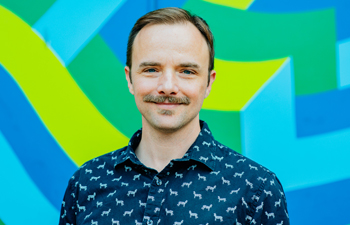 Saint Xavier University (SXU) music alum John Kehl '02 has been busy – he just recently released an album, "Life After Death," and he's started a new podcast, Song Surfing Podcast, a music discovery podcast that showcases the best independent music from around the world and presents a diverse playlist spanning many genres.
In each episode, Kehl presents a playlist and talks about each song with the goal of creating a bridge between the independent artists and potential new audiences.
"I listen to all types of music, from jazz to metal to indie rock to classical. I spend my time combing through a bunch of different sites to discover unsigned artists and provide listeners with a quality listening experience. I include information from the artists, like their backstories and the recording process. I'm looking forward to seeing the podcast grow," said Kehl.
Kehl's album is released under the artist name Oodles and is an indie rock journey about transition and change, spanning topics from love to death and the effect metaphysical concepts can have on the psyche. The album is available on all streaming platforms, and Kehl will be donating proceeds to the Make a Wish Foundation.
Kehl has also been teaching band at Oak Lawn-Hometown District 123 since 2005.
"I like being able to connect with students on a love of music and guide them through the process of learning instruments. It's a multilayered process and ties into my love of music in general. It's really rewarding," said Kehl.
"There have been a lot of studies about the relationship between music and brain development, which is valid, but with my own students, I see that music gives them a place to belong, something to be good at. This is really where the power of the arts come from, giving kids a chance to be creative and think differently," continued Kehl.
Part of what helps Kehl juggle all of his work and projects is the preparation he received from this time at SXU.
"The one-on-one attention and support I got from professors was huge. I don't know if you could get that at any other university. One of the strengths of the University is providing opportunities for students who were willing to work for them. Dr. Greg Coutts gave me some gigs outside the program. My professors were really influential and dynamic," said Kehl.
Kehl stays close with SXU professors Shawn Salmon, D.A., and Thomas McNichols. He admires them greatly for the strong bond they build with students and the work they do to enrich young minds.
Kehl is working on another album, which he plans to release in the coming year, and will continue work on his podcast.
---