SXU Alum Thrives in Higher Education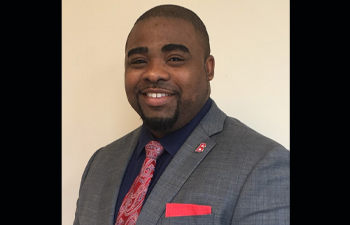 Saint Xavier University (SXU) alum Jon-Pierre (J.P.) Bradley '06, '12, Ed.D., finds that SXU was the perfect supportive and inclusive environment to learn and grow in, and now he spends his days giving back to the higher education community as director of Alumni Relations at Benedictine University.
Bradley spent his undergraduate career at SXU studying political science and communication. After graduating in 2006, he returned to earn an MBA with concentrations in management and health administration. He later earned a doctorate in education with a focus on educational leadership and administration from the University of St. Francis in 2019.
Over the years, Bradley has become assistant pastor at his church, True Rhema Life Changing Ministries in Bolingbrook, and has worked with local community leaders and public servants to better serve underserved community members. In his role as director of Alumni Relations, he builds and coordinates outreach to alumni across the country and internationally, and he is the first African American to hold the position in the 134-year-old university.
Before coming to Benedictine, Bradley served as an adult recruitment specialist at Joliet Junior College. In addition to studying at SXU, Bradley worked at the University from 2007 to 2015, serving as the assistant director of Alumni and Parent Relations, where he established a National Alumni Board of Directors with presence across six regions and helped to introduce a profit-making events model and established a student philanthropy group.
Bradley felt that his time at SXU provided him with the foundation he needed to grown and succeed.
"SXU was a triple threat – the highly educated faculty with real-world experience, invested and concerned staff, and inspirational and ambitious students! I was blessed to meet and learn from some of the best. In some of my courses, we worked with real professionals to solve real-time problems and make recommendations that were taken into serious consideration – high impact learning," said Bradley.
While at SXU, Bradley founded a club called Barrier Breakers, which sought to plan events and opportunities to break through obstacles that kept students from getting to know other cultures, religions, lifestyles and points of view, and to find the common cords that bound everyone together. He also worked with many student organizations to bring diverse groups together and planned a student-funded philanthropic event to provide Misericordia Heart of Mercy with nearly $1,000.
"I loved all the supportive people and life-changing experiences I encountered. SXU was like a family to me. As a former employee, being part of the engagement of students and really working with people who have a passion for students and education meant a lot. Some of my favorite mentors include Dr. Michael Clark, Dr. Matthew Costello, Dr. Joel Sternberg, Dr. Kathleen Alaimo, Dr. Stephen Murphy, Jeanmarie Gainer, Professor Eugenia McAvoy, Jamie Manahan, and so many others!" said Bradley.
In the future, Bradley plans to continue to grow and eventually work his way up to becoming president of a university.
---