SXU Alumna Admitted to Medical School With Unique Application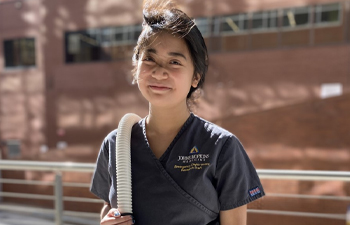 Saint Xavier University (SXU) alumna Therese Bueno '18 submitted an unusual but unique accompaniment with her medical school application – a music video! Bueno, who wanted to stand out among her peers, combined her passion for health care with her love of music in her application to George Washington Medical School. A week later, she saw the YouTube views had skyrocketed. Shortly after, she received her acceptance and will soon begin medical school.
"I had interviewed at four different medical schools and had been accepted to two, but George Washington was my top choice, as it is very rich in service and dedicated to eliminating health disparities. I wanted to show them that I am unique while being true to myself. So, I wrote a song about the school and at first it was kind of a joke, but I realized this could be a real thing. They accepted me not just for grades and test scores, but for who I am," said Bueno.
Bueno majored in biology pre-health and minored in chemistry while at Saint Xavier. After graduating, she worked as a medical scribe in Silver Cross Hospital's emergency department and then moved to Baltimore, where she currently works as a research program coordinator and conducts research on COVID-19 at John Hopkins Medical Center.
From a young age, Bueno knew she wanted to work in the medical field. Both of her parents are nurses, and she always knew she wanted to study health care, but it is not until she began working as a medical scribe did she realize that she wanted to be a leader of a health care team as a physician.
"I want to learn how to heal and treat different cases, and I want to address inequities in health care accessibility. I want to understand medicine and how to help people with illnesses, but also address the inequities present within our communities and make resources more accessible," said Bueno.
Bueno was even younger when she realized how much she loved music. She began playing piano at six years old and eventually began to play at the nursing home her parents worked at. Bueno enjoyed making the residents happy and realized that playing music was a way to connect with others and express herself.
"When I was 14, I stared writing songs about how I felt about the world and myself. I formed an all-girl rock band called Sugar Rush, and we performed at the Illinois State Fair, House of Blues and festivals around the area. Music and medicine are very similar – they provide opportunities to connect with people not just through conversation, but in spirit and soul," said Bueno.
Bueno credits her time at Saint Xavier for preparing her for her next steps, especially the support she received from the University's tight-knit community. Bueno was a resident assistant, lab assistant, peer mentor, campus minister, and served as co-president of the Service Club, which she helped build. The organization delivered meals to underserved families, uplifted the campus community by sending teacher appreciation letters and engaged in other projects to serve the community.
"The small community helped make me a better student and person and really helped me to hone my passion for service. I wouldn't have gotten this opportunity anywhere else. SXU is so uniquely diverse and the community gave just as much to me as I gave to it. Being able to say that I studied and thrived in a family environment really helped me stand out in my medical school interviews," said Bueno.
The Mercy mission has always been a huge part of Bueno's life, as she attended Mother McAuley Liberal Arts High School and has played piano for Mercy Circle's weekend masses for years. Being immersed in Saint Xavier's Mercy mission just reinforced for Bueno that she wanted to dedicate her life to service.
She is grateful for the professors of Saint Xavier's Music Department, which she refers to as small but mighty, and she truly appreciates the encouragement she received from science professors Bindhu Alappat, Ph.D., and Tatiana Tatum, Ph.D.
"Drs. Alappat and Tatum taught me to see the best in myself, reach for the stars and do what I never thought was possible. I have grown so much because of the love and support the SXU community has given me, including the opportunity to express myself. I've been able to marry my love for medicine and music because of SXU," said Bueno.
Bueno looks forward to starting medical school and still plans to keep up with her music by continuing to release music videos. At George Washington, she hopes to volunteer at a free health clinic and explore the flaws in the public health care system and how she can help minority communities that are disproportionately affected by disease. After graduating, she hopes to work in emergency medicine or as an ENT.
"Without Saint Xavier, I wouldn't be who I am today, and I look forward to making them proud in the future."
---