SXU Alumna Recognized Among Most Influential People in Dentistry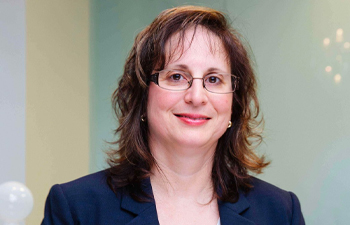 Saint Xavier University (SXU) alumna Denise Terese-Koch '90, DDS, has been recognized by Incisal Edge magazine as one of the "Most Influential People in Dentistry." Ranking among the top 25, Terese-Koch sits alongside scientists, practitioners, researchers, influencers and celebrities as a top player in dentistry. Alongside her ranking success, Terese-Koch's ambition continues to rise with a new important project – she's recently been appointed to serve as the founding dean of the Lincoln Memorial University (LMU) College of Dental Medicine in Tennessee.
As a first-generation student at Saint Xavier, Terese-Koch majored in biology. At the time, Saint Xavier worked with Loyola University's dental school for a 2+4 program. With her advisor, Terese-Koch was able to finish at Saint Xavier in two years and graduate as the youngest dentist from Loyola two years later at age 22.
After graduating, she did a general practice residency where she worked on one of the first heart transplant teams requiring dental clearance, tended to special needs patients and assisted with pediatric dental cases in the operating room. She spent the next 21 years in private practice before transitioning into academia in 2014. She earned an MBA in 2018 and is currently in the capstone phase of her doctorate in education.
Terese-Koch knew she wanted to be a doctor since she was five years old. During her time at Saint Xavier, she was exposed to professionals from different fields of health care and learned she enjoyed working with her hands. She evaluated the different careers presented to her and decided dentistry would give her the most opportunities to have a fulfilled and well-rounded life.
"Because of the exceptional faculty and administrators at SXU who guided me through my educational journey, I decided to pursue two careers in dentistry – one as a practicing dentist and the other as a dental educator. SXU prepared me for my future endeavors by providing me with a solid foundation in the biomedical sciences and humanities to help me become a well-rounded health care provider," said Terese-Koch.
On campus, Terese-Koch served as a student ambassador, freshman representative and president of the Saint Xavier chapter of the American Institute of Biological Sciences. Terese-Koch loved the atmosphere of Saint Xavier, appreciating that it was a small school where she could receive one-on-one guidance from the faculty and administrators who helped customize the 2+4 program with Loyola to ensure she would receive her bachelor's degree after the first two years of dental school.
"My favorite professor was my inorganic chemistry teacher, Sister Francis Crean. She dedicated her life to helping students achieve success. I can remember conducting an experiment in the lab and losing my product right before the weigh-in. Sister Crean scheduled another time for me to run the experiment – this time, my product had a slight green hue when it was supposed to be white. Sister Crean did not deduct the full points when grading my lab experiment because she remembered my initial product was white. Not many professors knew their students that well and remembered their work," said Terese-Koch.
As founding dean of the LMU College of Dental Medicine, Terese-Koch, who has vast knowledge of general dentistry, dental education and program development, will serve as the chief academic officer and will maintain programs and handle the overall functioning of the college, including budgeting, finances, board passing rates, licensure passing rates and more. She is responsible for developing graduate dental education, research and community outreach.
To develop a dental school with the Commission on Dental Accreditation, Terese-Koch must complete a feasibility study and self-study and develop the four-year program and curriculum. LMU has applied for initial accreditation and plans to welcome the inaugural class of the Doctor of Medicine in Dentistry program in fall 2022.
"My goal is to make the LMU College of Dental Medicine the No. 1 program in the country. I'd also like to have 100% board pass rates and ultimately provide our students with the foundations they need to be the best dental practitioners they can be," said Terese-Koch.
Terese-Koch plans to begin the dental college's community outreach program in late July and open the college in August 2022, accepting 80 students into the doctoral program and 30 students into the associate program. She is currently developing a robust continuing education program for dentists, including a forensic odontology fellowship, and adding multiple master's, bachelor's, advanced education and postgraduate programs to the college. She anticipates remaining at LMU for the remainder of her career to ensure they satisfy their educational and humanitarian mission by graduating outstanding dentists and dental hygienists to serve the 2 million people in East Tennessee who do not have access to oral health care.
---