SXU Alumna Leaves Legacy of Compassion in Form of Original Painting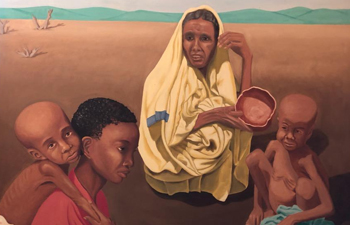 Saint Xavier University (SXU) alumna Carol Schuberth '85 leaves behind a legacy of compassion and empathy, along with a special piece of artwork that will take up residence on SXU's campus for all the community to enjoy.
After her recent passing in March, Carol's children donated one of Carol's original paintings to SXU. Titled "Trinity," the painting depicts a refugee woman and children. According to Carol's children, the three prominent images in the painting represent the protection of the Father, Son and Holy Spirit, ultimately serving as a prayer via art.
"My mother would have loved to mentor students as that was a mission in her life, to help others. Her mission was aligned with the mission of the founding Sisters of Mercy. She would be absolutely overjoyed to have this very important work of hers hung at Saint Xavier, in a place where she thrived and others can appreciate the narrative," said Jeannie Schuberth, Carol's daughter. "The faces and the children in the painting capture Mom's heart of gold and compassion for others and the prominent yellow draping of the woman's garment showcases her study and talent for painting."
Carol and her husband, Hank, cared deeply about social justice for the underprivileged, much like SXU and the Sisters of Mercy. Having marched with Martin Luther King Jr. in Chicago in the 1960s, they served as allies for people of all color, creed and race, and Carol brought her beliefs to life within her artwork. As parishioners of St. Denis Church, they served as ministers of consolation, brought communion to those who were unable to attend mass in-person and regularly hosted group prayer in their home. Carol also sang in the church choir.
Carol returned to school as an adult learner and graduated from Saint Xavier at 50 years old. She began her studies at a community college at age 35 and took one class at a time while she raised her eight children. "She knew her return to school would allow her to pursue a creative life and infuse it with her life experience, passion for social justice, deep Catholic faith and the pursuit of meaningful creative outpouring," said Jeannie Schuberth.
During her time at SXU, Carol, who graduated with honors, studied art history and painting. She enjoyed working with her fellow classmates, many of whom were much younger than she. Her classmates inspired and enriched her education, and she often spoke about the excellent professors and education she received. Carol's daughter describes her as a social butterfly with a compassionate soul who connected to and supported all.
"She loved the human connection at the University and especially loved her painting classes," said Jeannie Schuberth.
Carol was recommended for a scholarship as part of a partnership between Saint Xavier College and the School of the Art Institute of Chicago, enabling her to study art history and architecture in Paris for a month. After graduating, she developed and taught an art appreciation program along with Hank at St. Denis School, and she volunteered her art skills for the parish with over 50 years of banners, paintings and decorations. The Schuberths found it a joy to be with children, always teaching and leading by example through God.
"Mom would tell you none of this would have been accomplished without the loving encouragement and support of her husband of over 62 years," said Jeannnie Schuberth. "She always felt extremely blessed and expressed gratitude, humility and compassion through every step of her accomplishments."
She continued to paint and has created numerous social justice, nature-inspired and portrait pieces, which she has shown at local fairs and facilities. Several of those pieces are at home in parishes in and around Chicago, where the works are impactful and appreciated by many.
Jeannie Schuberth believes that Carol would encourage current students to follow their dreams and passions. "She'd say, 'It's never too late for anything. Have faith in God. Don't take education for granted, and express your feelings through art, not what's popular.' She'd remind students to have compassion and enjoy life with a smile on their faces!" said Jeannie Schuberth.
Carol Schuberth lived a rich and full life, and her meaningful work will live on to inspire others within the halls of Saint Xavier.
---