SXU Alumna Lives Life of Service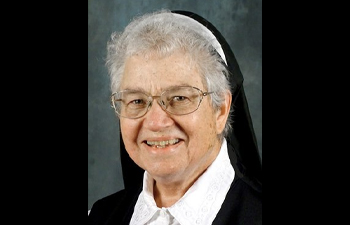 Saint Xavier University (SXU) alumna Sister Caritas Strodthoff '71 has accomplished much in the 50 years since she graduated from Saint Xavier. Living a life of service, she worked as a nurse practitioner and established a family health clinic, advocated for women's health care, and serves as a Franciscan Sister of Christian Charity.
Before coming to Saint Xavier, Sister Caritas graduated with a nursing diploma in 1964 and began work as a nurse, so she was already practicing by the time she began her BSN studies. Sister Caritas came to Saint Xavier along with five other Sisters who'd already worked as nurses for years. At the time, Saint Xavier hadn't yet implemented challenge exams, which upset the Sisters because of the objectives they wanted to achieve. However, Sister Caritas found that Saint Xavier gave her the additional education nursing was heading toward at that time. She drew inspiration from Saint Xavier nursing professor Mary Geiss who taught her to think outside the box, particularly when it comes to the diversity of patients and how each one needs to be treated individually. She also spent her time at Saint Xavier as part of the girls glee club and at the first-ever Earth Day garbage collection.
"At Saint Xavier, it was wonderful to be accepted by other women who lived in the dorm. There were 14 of us who were members of religious orders and most moved over to the Mercy Sisters dorm area, but we stayed the whole first year," said Sister Caritas.
Upon graduating, she began working in labor and delivery at Holy Family Hospital in Manitowoc, Wisconsin. In 1972, she took summer credits at Catholic University so she could join the Holy Family School of Nursing as faculty, fundamentals and medical-surgical nursing.
After transferring to Good Samaritan Hospital in Ohio, Sister Caritas worked in an intensive care unit, which piqued her interest in becoming a nurse practitioner. She wanted to do more for patients independently rather than wait for a physician to make a decision that was within the scope of a nurse to make. She completed an adult nurse practitioner program at the University of Wisconsin and returned to her convent to set up its first health clinic.
Though she already had a master's degree, she spent time at the University of Pennsylvania, taking a course load on psychiatric mental health. She wanted to get educated on the issues surrounding sexual abuse in children and women, as a number of Sisters in her religious community had been abused as children. For her practicum, she worked for Women Organized Against Rape. For the next 10 years, she worked as a nurse practitioner in a rural health clinic before returning to her clinic in Manitowoc. Finally, she retired from her work as a nurse practitioner and began work in her convent community archives, a perfect position for the very organized history lover.
Within her clinic, Sister Caritas hoped to encourage consistent yearly recommended tests and exams, decrease costs and expenses by utilizing clinic services rather than physician visits, and improve the understanding of personal health care needs as well as health status and longevity of life.
"Over time, the clinic grew from two small rooms with a secretary, bathroom and bench in the hallway that served as the waiting room. The location has changed three times, with the last change made to improve accessibility to the nursing staff and provide a smoother transition of care from the health clinic to the skilled nursing area. It now has two nurse practitioners, one physician, three secretarial staff, a lab technician, registered nurse and skilled nursing area," said Sister Caritas.
Sister Caritas was drawn to nursing because her mother had wanted to be a nurse but didn't pursue it after marriage. As early as eighth grade, Sister Caritas chose classes that would contribute to skills needed for nursing, and she's never doubted choosing the profession for a minute.
"My favorite thing about nursing is educating others and improving their health status and ability to live a better life," said Sister Caritas. "In my work as a nurse practitioner with our Sisters, I was motivated to improve their access to health care, provide prompt attention to their needs, confidentiality, education and monetary savings."
Both in nursing and her service as a Sister, the Mercy tradition and Saint Xavier mission remain ever present.
"Charism centers around hospitality. As a student, I practiced the Mercy mission by encouraging and helping the other students in the nursing program. As a nurse, it's my life to be compassionate and merciful just as Jesus calls us to be. Compassion and Mercy are part of who I am and who I always hope to be," said Sister Caritas.
In the future, Sister Caritas plans to continue to organize the archives and educate members of her congregation about the history that has made them who they are today.
---