SXU Alumna Named Director of Multitiered Social Support and Equity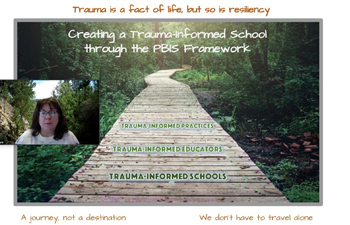 Saint Xavier University (SXU) alumna Missy Baglarz '09 believes in building a structure of understanding within schools that focuses on developing the whole child. Baglarz, who has newly been appointed the director of multitiered social support (MTSS) and equity at W.A. Johnson Elementary School in Bensenville, prioritizes providing resources for all students.
In addition to the master's degree in educational administration and supervision Baglarz has from Saint Xavier, she also has a master's in social work and a master's in education, both from the University of Illinois at Chicago. Before taking on the role of director of MTSS, Baglarz served as principal of the school for seven years. As director, Baglarz puts structures in place across the entire school, which is made up of three buildings, to help staff do their jobs more efficiently. She also provides professional development opportunities for staff.
"I love this role. I get to work with students who are outliers, whether they are gifted or have profound cognitive struggles and disabilities. My work covers academics, behavior and social-emotional learning. I am in lots of meetings for all three strands and have a personal caseload of kids I work with. If I ever have a job where I can't work one-on-one with kids, it's time to retire," said Baglarz.
Baglarz believes that a child needs to be looked at as a whole. According to Baglarz, when a child is struggling with behavior, it is common for people to go toward punishment rather than considering ways to teach behavior. As part of her role, Baglarz helps people to understand that behavior issues indicate a lack of skills and that behavior must be explicitly taught.
"It really is all about trauma-informed practices and creating a trauma-informed district and classroom. Everybody needs consistency and fairness and it's important for those in authority positions to be conscientious about sounds, touch, raised voices and other things that may induce discomfort. We've found our kids struggle with emotion regulation in general. First, we need to identify and label, and then we handle emotions. I want all of my teachers to understand that and want our students to be excited with all our teachers," said Baglarz.
Baglarz's goal is to help make her entire district fluent in trauma-informed practices. She aims to serve the community, students, families and teachers where they are and develop schools where the whole child is honored and respected. Baglarz finds that she incorporates SXU's mission of service and core values into her work daily.
"The core values and mission of Saint Xavier are 100% integrated into my daily life. Humility is what makes a good leader – it's about what the leader does to help the community, about bringing people together," said Baglarz. "It's also about passing those values to others. School used to just be academics, but now we have social and emotional learning. We want kids to be good citizens."
Baglarz felt that her time at SXU was incredible preparation for her career. She especially appreciated that the teaching in her classes was grounded in reality, as she had many professors who had real-world experience, having served as principals or superintendents.
"Even today, I find myself recalling advice from discussions and feel confident in how to navigate certain situations because of what I learned at Saint Xavier. I also loved that there was such a community feel at the school," said Baglarz, who found a favorite mentor in Alan Jones, Ed.D., professor of education. "He was such an electric educator. I continually think about his teaching and discussions when I run into situations. He really understood adaptive work and change theory and he was such a great storyteller."
Baglarz advises current SXU education students to be open to learning, be humble and to remember that the focus should be on the organization, the community and the students. Baglarz stresses that part of leadership includes making mistakes and not being afraid to be seen as human.
"One of my SXU professors told us that when you become a principal, you're still the same person you were before, your values are still the same. I carry that with me," said Baglarz. "It's important to me to encourage people to not be afraid to get into the world of education. It is hard, especially during a pandemic, but it is so incredibly rewarding. It is rich work. We need people who are advocates for our communities and our kids, especially with the teacher shortage. If teaching is your passion, don't let anything stop you."
In the future, Baglarz plans to continue to exercise her skills as an amateur photographer and spend time in nature. Her dream is to buy some land when she retires and create a therapy program for students in need with dogs and horses as therapy animals.
---