SXU Alumna Named Moraine Valley's 2021 Master Educator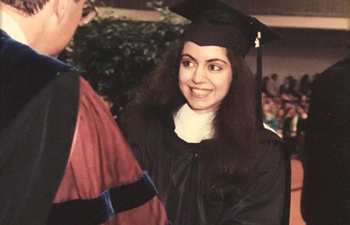 Saint Xavier University (SXU) alumna Amani Wazwaz '93, Ph.D., has been named Moraine Valley Community College's (MVCC) 2021 Master Educator for her professorial work at the community college. Master educators are chosen based on program standards established by the National Institute for Staff and Organizational Development (NISOD), which include criteria for teaching and learning, leadership development, career development and teamship development. The recipient is selected by MVCC's Faculty Development Committee and former master educators who look for evidence of useful and meaningful practices that advance the education of the community.
"I owe this recognition to Moraine Valley's supportive environment, which encourages effective educational practices to best serve students and the college community," said Wazwaz. "So many of my colleagues are doing extraordinary work to promote student and college community success."
To get her students engaged in high-impact learning, Wazwaz creates educational games as well as interactive, hands-on activities. She designs activities to ensure students collaborate, debate, respond to one another, answer questions, ask questions and use writing to generate ideas, while encouraging them to analyze and make meaningful connections with one another.
"Many educators have stressed the importance of interactive learning, and I am a firm believer that when students are asked to produce and think on their own, they start to build skills and confidence," said Wazwaz.
Wazwaz also had the opportunity to work with MVCC colleagues on MOSAICS: Muslim Voices in America, a program supported by a grant from the Doris Duke Charitable Foundation. Wazwaz chaired the House of Wisdom branch of MOSAICS, symbolic of the House of Wisdom of the Islamic Golden Age, which thrived as a vibrant academic research library and institution with advances in mathematics, science, medicine and humanities. Wazwaz spent time acquainting the college community with the House of Wisdom scholars and their achievements by giving library presentations, writing plays, putting on shows, inviting staff and students to dress up as scholars during fests, and designing a range of creative educational classroom activities.
"What is noteworthy about the House of Wisdom is the academic collaboration between multiethnic scholars of diverse faiths. In the effort to make sense of the meaning of this award, it is impossible not to take into consideration the House of Wisdom and the pandemic – it is the House of Wisdom's energetic learning and the embracing of diverse and multiethnic scholars that I prize dearly and hope to see maintained," said Wazwaz.
In reflecting on the past year of teaching and the transition to online learning, Wazwaz feels certain that she made the right choice in being an educator. Though the hardships of the pandemic exacerbated the challenges of teaching and learning, Wazwaz feels that every step students take to move forward is a triumph against hopelessness engendered by the trails of the pandemic and is honored to guide and encourage, whether in person or behind a computer screen.
Before beginning her graduate journey at SXU, Wazwaz studied biology at the University of Illinois at Chicago (UIC) and later earned a doctorate in American literature from Loyola University. While at SXU, Wazwaz felt there was much to love and enjoyed the tight-knit community. Wazwaz found her courses welcoming and the class discussions thought-provoking. In addition to being an alumna, Wazwaz also served as an adjunct professor at Saint Xavier for nearly 17 years and has many fond memories of the students she met at SXU and their vibrant enthusiasm for learning. She also worked on and played a role in developing curriculum for Middle Eastern studies.
"Saint Xavier University has done so much to prepare me for my career. From being a student to being an adjunct [at SXU], I gained so much knowledge and experience. I worked alongside extraordinary colleagues, had the honor of teaching many genuine and bright students, and learned about developing curriculum and creating proposals," said Wazwaz.
Wazwaz had many mentors and colleagues at SXU that she appreciated, particularly Catherine Witek, Ph.D., who invited Wazwaz to be her teaching assistant for a course on teaching college writing; Nelson Hathcock, Ph.D., who worked with Wazwaz to get her started on teaching Arab women's literature in translation; Lawrence Musgrove, Ph.D., who helped Wazwaz write a course proposal for survey of Middle Eastern literature; Elijah Ward, Ph.D., who Wazwaz worked with on the course proposal for a hip-hop studies course; Michael Bathgate, Ph.D., who Wazwaz worked with in the Philosophy and Religious Studies Department; and Norman Boyer, Ph.D., whose classes Wazwaz loved.
"I am pleased that Dr. Wazwaz has won this award but not surprised. She was a wonderful graduate student and colleague. I have never heard any other single professor praised by so many former students as she has been by students who transferred to SXU from Moraine Valley," said Boyer.
As Wazwaz looks to the future, she hopes that educational institutions thrive despite the challenges of the COVID-19 pandemic and that she continues to do her best at serving the MVCC community.
"I hope students will feel empowered to continue pursuing knowledge and taking concrete steps to fulfill their dreams. My dream is for educational institutions to continue the inclusive and forward-thinking spirit of the House of Wisdom."
---