SXU Alumna Named Vice President of Accounting and Treasury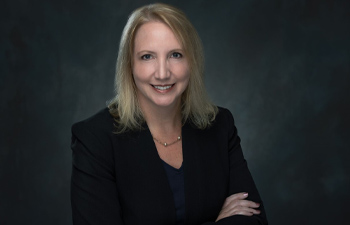 Saint Xavier University (SXU) alumna Kristina Cummings '96 has been named senior vice president of accounting and treasury at Oxford Capital Group, which focuses on hotels as well as other operationally intensive real estate, including multifamily apartments and senior housing. Cummings will manage the accounting and reporting of current and prospective investments.
After graduating from SXU, Cummings began her professional career at CNA Insurance as a staff accountant, working within the investment accounting team. While there, she became a certified public accountant (CPA) and was promoted to role of senior staff accountant. She also worked in international accounting for the Quaker Oats Company and when they merged with PepsiCo, took on a role within fixed asset accounting and then as a general ledger business analyst. She has been with Oxford Capital Group for 15 years and is thrilled to be promoted.
"As the company continues to grow exponentially, new opportunities will open to further my growth potential in the fields of accounting, treasury management and business development. In my position, every day presents a chance to learn something new and the vast potential to make an impact within the organization," said Cummings.
Cummings, who grew up with a small, family-owned gift business, was exposed to every facet of the business, including purchasing and accounting, at an early age. She has fond memories of her great grandmother keeping the books by hand. Later, her parents showed her how to keep books and how it relates to cash management, inspiring her to eventually study accounting and appreciate its relation to formulating great business decisions.
As a lifelong Southsider, Cummings was drawn to Saint Xavier because of the local camaraderie and involvement the University offers the community. While obtaining her education at home, she was also able to intern in downtown Chicago. She felt that SXU prepared her well for her career in accounting.
"SXU provided me with several opportunities, beginning with internships at Northern Trust Bank and later with a personal tax consultant. I also was able to study abroad and develop new connections. Meeting with advisors on a regular basis guided me to begin my accounting career. My professors instilled the drive in me to study for the CPA exam and recommended different exam programs along the way," said Cummings.
"In the realm of accounting, my favorite mentors were Professors Cyze, Schwer and Edelman, among others. I recall the accounting and marketing professors in a game of tug of war in the hallway, trying to convince me that their industry would be the better fit for me. At graduation, the accounting professors won that battle," said Cummings.
While at SXU, Cummings was president of the Business Students Association, served as a tutor for the Student Success Program and was part of the University's marching band color guard. She looks forward to continued growth with Oxford Capital Group.
---