/
/
/
SXU Alumna Is on a Mission to Spread Mental Health Awareness to Communities
SXU Alumna Is on a Mission to Spread Mental Health Awareness to Communities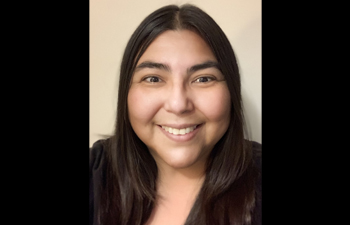 Saint Xavier University (SXU) alumna Lisa Guardiola '12 is on a mission to educate others on mental health awareness. Guardiola wears many hats in the mental health field. She is a community mental health outreach and education trainer for Sertoma Centre, Inc., a nonprofit organization that provides services and support for individuals with disabilities and those living with mental illness, and she is also the vice president of the National Alliance on Mental Illness (NAMI) south suburbs division, as well as a consumer support group facilitator and interim voice presenter.
In her role as mental health outreach and education trainer, she teaches mental health and suicide prevention to the community and various organizations within the community. Prior to COVID-19, she and her team would go to the organizations and facilitate mental health first aid, but now the 5-hour training is presented virtually. During the training, she discusses different mental disorders, substance abuse and how to help someone who might be experiencing elevated symptoms. Her work gives people a safe space for discussion and solutions for helping themselves or loved ones.
"Not only do I find joy and purpose in what I do, but I also learn a lot from the people I am facilitating trainings for. They often share their own personal stories or obstacles they've had to overcome," said Guardiola.
Within her trainings, Guardiola also discusses way to recognize if a person is in a state of mania or suffering from anxiety or depression, and how careless it is to brush those afflictions aside and not recognize the treatment needed in the same way one would need treatment for a broken arm. Guardiola encourages her trainees to break the stigma, which she believes will ultimately help people suffering to better recover and have better outcomes.
"It's really important to know that individuals with mental health issues are not frightening. We need to break the stigma that is associated with mental illness and mental health. It's unfortunate that mental health is seen as a different kind of entity, separate from the body, but it should not be considered that way. Mental health is just as important as our physical health," said Guardiola.
As the vice president of NAMI, Guardiola is involved in lots of fundraising and various volunteer work. Most recently she held a blanket drive. For each blanket donated, NAMI provided a voucher for a burger. They were able to meet their goal and collect 200 blankets, distributing to various organizations that help the homeless.
"I'm a person with lived experience. I was diagnosed with schizophrenia in 2004 and have been on the road to recovery ever since. A lot of the work I do with NAMI helps people to understand you should not be afraid of people living with mental illness – the only difference between them and you is that their neurotransmitters are not functioning properly, but recovery is possible and they can live productive and happy lives," said Guardiola.
Guardiola double-majored in psychology and studio art while she was at SXU, planning to go on to become an art therapist. Though she did not take that route, she still journals, sketches and paints in her free time. One of her favorite memories of SXU is spending time in the Visual Arts Center and working on pottery. She was also a part of the Spectrum Art Club and Psi Chi, the psychology honor society.
She felt that Saint Xavier prepared her well for where she is today and feels grateful for a liberal arts education that stressed the importance of critical thinking and preparation for becoming a productive and compassionate citizen.
"I was a returning adult student, so my time at SXU really prepared me to think outside the box and not be so critical of myself. At Saint Xavier, I really found my stride. They helped me to blossom into the person I am today. I really learned a lot from my professors, and they helped me to get to the career I am in now," said Guardiola. "There is so much I loved about Saint Xavier. The staff and faculty were so welcoming, and I got the sense they really cared about us. It wasn't just about the curriculum; they were teaching us how to be better individuals in life."
Guardiola especially appreciated the guidance of Robert Shapiro, philosophy professor. Though she was a psychology and art major, she found that his philosophy course was her favorite and that he and his class set the tone for her whole academic career at Saint Xavier.
"Professor Shapiro taught me to think outside the box and how to see the world differently and be open. He taught me how to put myself in other people's shoes. I honestly was not looking forward to philosophy, but his class surprised me," said Guardiola. "He would play classical music at the beginning of every class. I have such fond memories."
"Ms. Guardiola was an excellent student, always intensely interested and engaged in addition to being just a fine and extremely considerate person. It's a great pleasure but no surprise to hear of her great success," said Shapiro.
Guardiola incorporates Saint Xavier's mission and core values into her work every day, especially when it comes to compassion and serving others who are struggling.
"I really take the Saint Xavier mission to heart because I live it every day, not only in finding resources for those who need help, but in working with my coworkers and forming a team, being there for one another. The mission helped me to cultivate the leader I have become," said Guardiola.
Guardiola encourages SXU students interested in entering the mental health field to be open-minded and to remember that recovery is possible. She believes that professionals should enrich the lives of the individuals they work with, and that those who are suffering can lead very fruitful lives with a compassionate and dedicated professional as their clinician, social worker or mentor, whichever route an SXU student may be interested in.
In the future, Guardiola hopes to be able to directly help the community that gave back to her when she was struggling. She also plans to become a community recovery support specialist and use her own personal story to help others in their recovery process.
"One of the most important things to be is to be able to tell people not to be afraid and to seek help. Take advantage of the resources around you and don't be afraid to reach out for help if you're struggling. Mental health is so important. Take care of it and cherish it."


---