SXU Alumna Opens Community Wellness Center in Response to COVID-19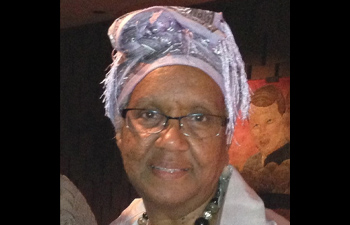 Saint Xavier University (SXU) alumna Constance Shabazz '01, M.D., has opened the Salaam Community Wellness Center (SCWC), a center in Chicago's Woodlawn area that evolved in response to the health and health care disparities that have long plagued Black and Latino communities in Chicago, heightened by the COVID-19 pandemic and its impact on people of color.
"When COVID-19 hit, there were so many people being negatively impacted and we needed to make progress in addressing those underlying conditions, social determinants and health care disparities that are linked to the way people live. I wanted to create an experience that was truly going to make a difference in a community that is just trying to survive," said Shabazz. "The goal of SCWC is to make a major impact in people's lives and to establish a model that can be replicated in other communities."
Shabazz and her team desired to establish a unique, innovative, integrative, holistic model of health and wellness, focusing on critical areas of need such as addiction, mental health and nutrition. The wellness center will offer primary care, individualized, tailored addiction treatment, a therapeutic garden, mindfulness activities, and case and care management.
"Individualized treatment plans are important because there is no standard treatment for any one person. Everyone's needs are distinct, and we must look at the whole picture, even things like whether or not the patient has transportation, and what their situation is. People need to feel heard, not like they're a category," said Shabazz.
Shabazz's health care journey initially started while in college, where she went to work for a sickle cell foundation started by two African American female pediatricians. The social justice aspect of the organization, which sought to help marginalized communities, sparked a real interest in Shabazz, and she knew she wanted to be a physician and educate others. She attended the Southern Illinois University School of Medicine and went on to work for Aunt Martha's Youth Services, a health and wellness not-for-profit organization, as chief medical officer, where she helped them go from a free clinic to a federally-qualified health care center.
Though Shabazz was already a clinician, she was drawn to pursuing a health administration degree from Saint Xavier both to be more business-savvy when it came to running a practice and to be able to provide input for government policy-making. One of her favorite parts of the program was her diverse set of peers, who had different backgrounds and perspectives on their health care experiences.
"I enjoyed the camaraderie, the exchange between myself and other students, the rigorous academics and understanding of the health care system and all of these other different components. I learned so much, and I was given the opportunity to apply what I learned every day. It's so rewarding," said Shabazz.
Shabazz is grateful for her time at Saint Xavier and found the relevance of her classes to her work to be the most valuable asset. She felt heard, respected and supported. She also especially appreciated being able to integrate the mission and core values into her life and work.
"We want our clients to feel at peace and know they are in an environment that is truly trying to help. There are so many who have been traumatized and judged upon decisions they felt were necessary to survive. We understand everyone has gone through something, and we want to educate people. Saint Xavier has always been such an open, non-judgmental space and always about service, and I so admire and appreciate that and carry it with me to this day," said Shabazz.
After graduating from Saint Xavier, Shabazz pursued a Master of Public Administration from Harvard University. In addition to her work with the wellness center, Shabazz owns and operates Books Ink Literary Services, a company that provides a wide variety of services to authors, from editing, marketing and advertising to graphic designing, workshops and legal counsel.
In the future, Shabazz hopes to expand the program at SCWC to include transitional housing for individuals and families recovering from addictions and escaping domestic violence and establish programs which address financial literacy, investing, workforce training and entrepreneurship.
---