SXU Alumna Publishes New Childen's Book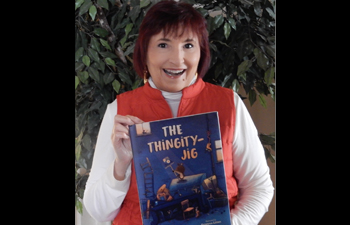 Saint Xavier University (SXU) alumna Kathleen Doherty '74 (nee Cuculic), a children's author, has just published "The Thingity-Jig," which follows her first picture book, "Don't Feed the Bear." With creative and fun vocabulary, whimsical syntax and joyous, action-packed adventure, Doherty's books are a hit with children everywhere, as she draws inspiration from just about anywhere.
"While in Alaska, I saw a sign that said, 'Don't feed the bears,' so I decided to play 'what if?' What if campers were feeding a bear? What if that prompted a park ranger to put up the sign? What if the campers were also feeding the park ranger and the bear retaliated by putting up his own sign not to feed the ranger?" said Doherty. "Seeing a discarded couch at the curb was the inspiration for 'The Thingity-Jig.' I remembered jumping on my parents' couch when they weren't looking. Again, I played 'what if?' What if a bear found a couch, wanted to keep it, and struggled to bring it home?"
After many drafts and revisions, "Don't Feed the Bear" was sold to an editor at Sterling Children's Books and debuted in 2018. The book is illustrated by Chip Wass, a Disney cartoonist. It's currently in its second printing and is featured on Kirkus Reviews' recommended list.
"The Thingity-Jig" was released in spring of 2021 and is illustrated by Kristyna Litten. It's received starred reviews from Kirkus Reviews and Foreword Reviews, as well as complimentary reviews from Booklist and School Library Journal.
Doherty, who is a former reading specialist, is most interested in sparking a love of reading in children with her books and says she is delighted when children want her books read to them over and over again. One young fan has a park ranger outfit and sleeps with "Don't Feed the Bear" every night.
Doherty majored in elementary education with a minor in English at Saint Xavier. After graduating, she earned a master's degree in reading and an educational specialist degree in curriculum and instruction from Purdue University. While teaching, she began writing for "Highlights," a popular children's magazine. Kathleen has won the Highlights Pewter Plate Award, the Highlights Celebrate National Poetry Contest and a letter of merit from SCBWI's Magazine Merit Competition. After retiring as a reading specialist in 2012, she began trying her hand at picture books.
Doherty recalls reading a slew of picture books for a children's literature class while at Saint Xavier and thinking that she'd like to write a children's book someday. Though teaching jobs were scarce when she graduated in 1974, she was hired to teach third grade before she even graduated, for which she credits her Saint Xavier credentials. Doherty loved her time at Saint Xavier. She enjoyed attending the dances and listening to the jukebox in the student lounge. She describes herself as quiet and studious, and laughs that she only cut class once in four years – to play ping-pong!
Doherty also loved the Saint Xavier Mercy mission, which she continues to carry into her daily life.
"We're at our best when we're serving others. For me, that means being thoughtful, charitable and prayerful. I'm active in my church and attend daily Mass. Because schools don't have money to spend on assemblies, I do free virtual visits, and I also donate my book earnings to various charities," said Doherty.
Doherty's nephew, Joseph Rycerz, an SXU accounting student and Cougar baseball player, currently attends SXU, and she couldn't be prouder. Doherty writes every day, and in the future, she plans to sell a few more books.
---