SXU Alumna Publishes "We Are Eagles"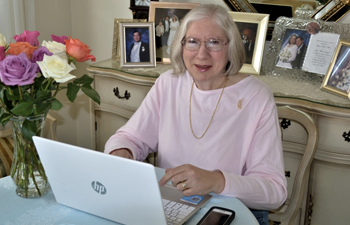 Saint Xavier University (SXU) alumna Anna Marie Kukec Tomczyk '83 has released a book, "We Are Eagles: Inspiring Stories of Immigrant Women Who Took Bold Steps in Life Through Literacy." The book follows the lives of five Latinas whose lives were changed after learning English at the Dominican Literacy Center in Aurora. The center, a place of hope, support and safety for immigrants escaping dangerous situations, helped these women bloom, and they'll now go on to inspire many through Tomczyk's book.
In 2017, Tomczyk resigned from a long-time position as a business writer at the Daily Herald after experiencing personal tragedy, which made her rethink what she wanted to accomplish in her life, including bigger projects and bucket list items. As a former Dominican Associate, she kept in touch with the Dominican Sisters and yearned to write a book about one of the Sisters' missions. She was put in touch with the Dominican Literacy Center's founder, Sister Kathleen Ryan, who connected Tomczyk with the students.
The book was a three-year process for Tomczyk, who learned about the five Latina students' strength, endurance, courage and empowerment. Tomczyk wrote separate stories of the students, which are divided into four main sections and reflect the life cycle of an eagle. The title of the book came from the young daughter of one of the students, who compared her mother to an eagle after she learned to drive, as eagles could fly anywhere and nothing could hold them back. The stories run parallel to the growth of the center from its founding to its 25th anniversary.
"I spent two years listening to these women. They smiled. They cried. Some faced physical abuse, poverty and illiteracy, yet they found their inner strength, settled into new homes, learned a new language, earned a living and raised their families. They tackled many milestones that many of us take for granted, and they did so at a later age and with fewer advantages than most. Each of these women preceded the Me Too movement, yet embodied it," said Tomczyk.
"I hope others will be inspired by these stories to achieve their own goals or advance their education in some way, which could help them to strengthen their wings for a new future. I also hope this book encourages others to see the immense value in literacy and to be generous in their thoughts, words and needs by supporting the Dominican Literacy Centers and all such educators nationwide," added Tomczyk.
Tomczyk has been interested in writing since she was a young girl, having been drawn to newspapers and magazines after the Watergate scandal made headlines. To this day, she finds that what she loves most about journalism is learning about people and being a part of the written word.
"I have loved being a part of each rendition of how the written word is distributed over the years, from print to online. Technology today provides a fascinating and incredible form of distribution of news and other content, which I love, but it also delivers a lot of misinformation throughout the industry, so writers need a keen sense of balance between speed versus accuracy," said Tomczyk.
Tomczyk, who majored in mass communication with a concentration in print journalism, credits her time at Saint Xavier for helping her to learn new information about communication journalism, all while she was working full-time at the Daily Southtown, a unique experience where she was able to apply what she was learning in the classroom to her position. During this time, she received various awards from the Suburban Press Club of Chicago.
After graduating, she became a speech writer for the Illinois Attorney General's office, where she served as a spokesperson for various cases, including the execution of convicted mass murderer John Wayne Gacy. She worked for the American Bar Association's Bar Leader Magazine and ABA Journal before beginning her work as business writer and columnist at the Daily Herald. During her tenure, she received numerous awards, including the Illinois AP Editors Association Public Service Award, the Chicago Journalists Association's Sarah Brown Boyden Award, the Chicago Bar Association's Herman Kogan Award for Meritorious Achievement, and first-place awards from the National Federation of Press Women and the Illinois Woman's Press Association. Her freelance pieces have been featured in the Chicago Tribune, Chicago Sun-Times, U.S. News and World Report and other publications.
Throughout her many years as a writer, Tomczyk finds that SXU's mission and core values are always present in her work.
"The SXU values are built on a 'search for the truth, to think critically, communicate effectively and serve wisely and compassionately.' As a writer and author, I have worked to provide the truth by listening to all sides and to present their information in the most honest, concise way. With all stories, whether they involve simple features or breaking news, I have worked diligently to present the facts that are known at the time in the most realistic and fair way. I also feel it is vital to follow the publication's policies – and my own heart – on treating sources with respect," said Tomczyk.
Tomczyk, who attended Saint Xavier while it was still a college, was proud to see it evolve into a university and is thrilled to celebrate 175 years. In the future, Tomczyk plans to continue her work on her second book and continue freelance writing for a variety of publications and clients.
---