/
/
/
SXU Alumna Receives Meritorious Service Award from the Illinois State Board of Education
SXU Alumna Receives Meritorious Service Award from the Illinois State Board of Education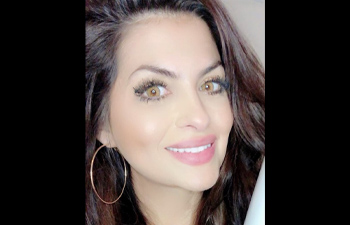 Saint Xavier University (SXU) alumna Shatha Odeh '03 has received the Meritorious Service Award from the Illinois State Board of Education's Those Who Excel program. Those Who Excel honors individuals who have made significant contributions to the state's public and nonpublic elementary schools and secondary schools. Candidates must be experts in their field and meet specific requirements, including being able to guide students of all backgrounds and abilities to achieve success; collaborate with colleagues, students and families to create a school climate of respect and success; and demonstrate leadership and innovation in and outside the classroom walls.
Odeh began teaching at Oak Lawn Community High School immediately after graduating from SXU – she was hired right on the spot. As she begins her eighteenth year teaching English at the high school, she is honored to receive the Meritorious Service Award.
"This award means so much to me because I am a person who strives to be of service in my community. I grew up in a household that emphasized giving back," said Odeh.
Odeh knew she wanted to be a teacher since her senior year of high school. Her parents were unable to finish their educations due to the Arab-Israeli (Six-Day) War that occurred in 1967, and they decided to work to earn their GEDs. They excelled in every subject except for the five-paragraph essay, and when Odeh sat down with them every day to help them use plain language to master the essay, she knew she had to be a teacher.
As a teacher, Odeh is very student-centered. She likes for students to have choices in the ways they learn and the ways they can show that they've learned. She works to think outside the box and develop new ways for the students to learn through the unique talents they have.
"Not everyone can show that they have learned through the five-paragraph essay. Sometimes they can show they've mastered the skill of analysis or understanding symbolism through art," said Odeh.
Odeh often arrives to school early so she can meet with students who need extra help and one-on-one time. She considers herself a very animated teacher who is fueled by the energy of her students. To keep up with trends and better relate to her students, she makes TikTok videos using a green screen to create scenes or references from books or plays they're studying.
"It's so easy as a teacher to want to be stuck in your old ways," said Odeh. "You have to learn to speak your students' language and keep them interested and motivated. You should always be a learner and learn from your students while they're learning from you."
Odeh is often reminded that she made the right choice in being a teacher by the many lifelong personal connections she's formed with students. She often receives meaningful emails from former students, many which include claims that Odeh was a teacher who changed lives. Knowing that she's made a difference in the lives of so many students is why Odeh chooses to continue teaching rather than going into administration.
Odeh also touches the lives of her students beyond the academic classroom. She started an organization at the high school called the Spartan Sisterhood, which is a group designed to empower young women and celebrate their accomplishments. Last year, the group held the first-ever, all-female homecoming dance. According to Odeh, many female members of the high school community are modest but would still like to participate. Odeh was pleased when she saw how many students showed up.
"We thought it would just be the Muslim population, but so many other girls joined. Girls were walking in and were able to take off their hijabs. They didn't feel like outsiders; they just got to enjoy their time with other girls who wanted to enjoy activities in a safe space," said Odeh.
Odeh credits SXU for preparing her for teaching. "I tell any of my students who want to become teachers that Saint Xavier is the best school for teacher preparation. Because of the small class sizes, you feel so seen and there is so much available help. It's eighteen years later and Dr. [Meg] Carroll still recognizes me," said Odeh. "The small community makes you feel so valued and like you really have a team behind you."
Odeh was very busy during her time at SXU, often taking more than an average amount of courses and once finishing a semester with 42 credit hours. Despite the tough schedule, she had several professors and mentors who were very instrumental in guiding her, particularly Angelo Bonadonna, Ph.D., and Norman Boyer, Ph.D., both of whom teach with a passion that inspires her.
"It's no surprise that Shatha Odeh is an award-winning teacher! As a student, she always brought something extra to class. Her interactions—with her friends and with the issues of English education—transformed a class experience into something electric and important," said Bonadonna. "She represents Saint Xavier's best in that she was from the neighborhood, became educated here and entered into her career here—always broadening our horizons with her caring, intense and marvelously humane and professional perspectives. I've had the chance to work with her as a cooperating teacher for one of our more recent student teachers, Kathleen Miller, and to see the circle of professional development in action through these two paragons of SXU's potential was one of my most rewarding experiences as an educator in SXU's distinguished teacher education program."
"When I encounter young people from Oak Lawn Community High School in my classes or even if they are wearing OLCHS sweatshirts on the CTA, I ask if they know the few teachers I know there. Whenever I mention Shatha Odeh, the students smile and praise her highly. That's the best recommendation I know of," added Boyer.
Shatha anticipates pursuing a doctorate in the next year and looks forward to enhancing her knowledge.
"Always remain a learner and always remain a student. I believe you should lead with your heart first."
---