SXU Alumna Receives National Emergency Medicine Award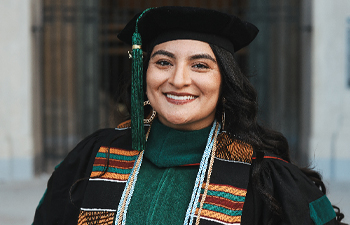 Saint Xavier University (SXU) alumna Jessica Muñoz '14 has received the American College of Emergency Physicians (ACEP) Medical Student Professionalism and Service Award and the Leonard Tow Humanism in Medicine Award. Muñoz, who graduated from The Ohio State University College of Medicine this May, has ambitious dreams – she plans to improve health outcomes of minority patients as an emergency medicine physician and also plans to run for office and one day become the president of the United States. To Muñoz, service to others is her mission in life.
"I feel honored and privileged to receive the ACEP national award. I decided I wanted to go into emergency medicine pretty late, so to receive that honor even though I decided late is very rewarding. To see that other people in your specialty recognize that you are an advocate, compassionate and willing to go above and beyond for your patients is incredible. I consider myself a leader, but it means a lot when others see that in me," said Muñoz.
While at SXU, Muñoz studied biology pre-health and minored in Spanish and chemistry. After graduating, she began studying for the MCAT and went on several service trips abroad to learn more about medicine in different countries, even researching HIV in South Africa. She has been in medical school at The Ohio State University since 2016, where she served as president of the Latino Medical Student Association. While in medical school, she volunteered at the free clinic, Clinica Latina, where she advocated for the health care of undocumented individuals.
Muñoz was drawn to studying medicine after taking human anatomy and physiology courses in high school. Though she initially hoped to be an FBI agent, she was intrigued by how challenging her courses were and realized that as a physician, she'd be able to save lives. She also cares deeply about mental health and advocates for those who suffer from anxiety. Muñoz's favorite part of medical school was creating a community where she feels like she belongs, and it was important to her to mentor other students.
When Muñoz first began studying at Saint Xavier, she felt she wasn't fully ready for the academic challenges she was facing, but mentors like Bindhu Alappat, Ph.D., pushed her to become a better student.
"Because of the relationship I built with Dr. Alappat, I was challenging myself to learn how to critically analyze what I was doing. If I wasn't challenged the way she challenged me, medical school would have been a lot harder for me, but my professors prepared me to be a better medical student and helped shape me into a better leader," said Muñoz.
"I have known Jessica for many years now, and I can proudly say that she is one of those students who has tackled every challenge presented to her with confidence and conviction. And she does it in a way that reflects the core values of our University and is always ready to give back to the SXU community and to society. I am looking forward to the impact she will make in her field and in the community for years to come," said Alappat.
While at SXU, Muñoz enjoyed being a resident assistant, creating a community with the residents she lived with and spending time with her peers. She was very involved on campus, serving as president of Tri Beta, the biological honor society; a member of The Schmitt Scholars Program; a member of the Student Success Program (SSP); a peer academic leader; an organic chemistry tutor and the Commencement speaker for her graduating class. She also earned numerous awards during her time at SXU, including the Outstanding Biology Student Award, the Mother Paulita Morris R.S.M. Student Service Award and the Saint Catherine Leadership and Service Award, among others.
Muñoz encourages current SXU students to remember that they can achieve whatever they think they are meant to do.
"I have been doubted or told to choose a different career path, but no one can dictate what you can become. They don't know your struggles or who you are. I am glad I stayed determined and thankful for all the people in my life who believed in me, and I want to inspire other students to just keep pushing," said Muñoz.
As a physician, Muñoz finds that she carries SXU's mission and core values in all that she does, day in and day out.
"Giving back Is what I have been called to do. The Sisters of Mercy are inspiring to me, as I am dedicated to service. SXU's Mercy mission is my interactions with whoever I meet, whether that is a patient, colleague or patient's family member. There must be humanism in medicine. I want to make my patients feel like their lives matter and to figure out ways to solve issues so I can help create a better community and a better future," said Muñoz.
Next, Muñoz will begin her emergency medicine training in California and will spend three years there before finding a position as an attending physician. Muñoz is mentored by an Illinois state senator and hopes to run for office so she can change health care in a way that directly impacts the patients she treats. Because of the many social determinants of health, she plans to balance her occupations as she feels her time will be most wisely used doing both the duties of a physician and a legislative official so that she can be involved in policy. Muñoz also plans to publish a memoir of her life and experience in medical school.
In her free time, she enjoys traveling, going to the beach and title boxing.
---