SXU Alumna Retires From Prominent Chicago Film Center After 45 Years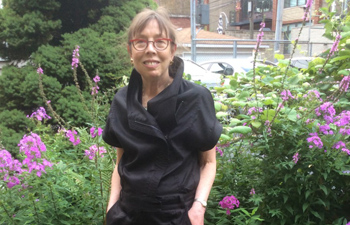 Saint Xavier University (SXU) alumna Barbara Scharres '69 has recently retired from the Gene Siskel Film Center, the cinematheque founded in 1972 and attached to the School of the Art Institute of Chicago, known for its premieres of trailblazing work that celebrates diverse voices and international cultures. Scharres served as director of programming for 45 years.
After graduating from Saint Xavier, Scharres began making short, experimental films and decided to pursue a graduate degree at the School of the Art Institute of Chicago. She began to work with programming and the technical side of film and spent a lot of time freelance writing, mostly film-related, and wrote for multiple magazines and websites.
While she was in graduate school, she worked as a film projectionist at different venues and met the woman who would be the founder of the Gene Siskel Film Center, Camille Cook. Their meeting led to a part-time job with the newly founded film center and then a full-time job. Scharres worked in many different areas before becoming the director of programming, where she was tasked with determining the artistic direction of the film center and the whole philosophy of the mission, which is to present significant world cinema that sets aesthetic, critical and entertainment standards.
Scharres focused on global films, particularly films of Hong Kong, and she also established innovative programs and events during her tenure, including the European Union Film Festival and the Black Harvest Film Festival, Chicago's annual showcase for films that tell stories, raise questions or touch on issues that relate to the Black, African, African American and African diasporic experience.
"The mission of the film center is really to bring world cinema in all its forms to a Chicago audience and to introduce people to new things, acquaint them to what is going on in the world of film, like new developments and independent movements. I tried to discern what was lacking in film culture in our area of exhibition. We were too important a city with too vibrant an African American population to not showcase the work of African American directors, and now this festival has grown to a very significant cultural project which includes work from all over the United States," said Scharres.
Scharres's favorite thing about her time at the film center was the fruitful collaborations she experienced working directly with filmmakers, consulates and directors of various foreign culture institutes.
"It was so exciting to be exposed to different aspects of world culture and to open people's hearts and minds to what was happening in film around the world. That's the ongoing spark that makes the film center work – the engagement," said Scharres.
Scharres has continued to visit Saint Xavier over the years, most recently coming back to introduce a speaker in a lecture series that took place in the Bishop Quarter Room, and she was able to reminisce on her time at Saint Xavier with faculty members. When Scharres began her undergraduate studies, she recalls that much of the curriculum was based on Aristotelian philosophy, so many of the courses were based around being a system of philosophy and how different disciplines ordered the world.
"Freshman year, I had a teacher named Harvey Meade who was teaching astronomy physics, and the buzz throughout the campus was that he was an incredibly difficult teacher. At the time, registration was in alphabetical order, and by the time I registered, his was the only section left. He ended up being one of the greatest teachers I've ever had in my life. He was very crafty and challenged us to change the way we thought about the world and the material we read," said Scharres.
Initially, Scharres enrolled as a nursing major at SXU, but ultimately decided to change her major to art. Scharres has been interested in art since she was a child.
"From the time I was a little kid, I started drawing and painting and always seemed inclined in that direction throughout my childhood. It was a natural progression, and by the time I was studying at Saint Xavier, a lot of exciting things were happening in the art world, which I found very stimulating. Conceptual art was taking so many forms and really expanding the definitions of what people had commonly considered art," said Scharres.
While attending Saint Xavier, Scharres lived in Regina Hall and was part of a book club called Fiction Gang, which she helped to organize. She submitted work to Opus, the University's literary magazine and she was also part of the Film Society, which presented one film a month in McGuire Hall.
In her senior year, Scharres attended the first-ever film history class at Saint Xavier, and with the late Thomas Deegan, Ph.D., who was also her advisor, she was able to create an independent study course in film.
Scharres appreciated all of her influential professors, including Sister Mary Denis O'Grady, R.S.M., who Scharres found to be a remarkable teacher and historian. She also made plenty of friends from her art courses and holds lot of great memories.
"The thing that is going to serve you best is a liberal arts education. The great takeaway from my education at Saint Xavier was training my mind to think in all areas. It's not just about what you major in but how you can make your mind work. A rigorous education that exposes you to diverse ideas is critical," said Scharres.
Though she's retired, Scharres isn't slowing down anytime soon. She continues to work on film-related projects, including coverage for the virtual Rotterdam Film Festival for the Roger Ebert website and an interview with a female Iranian film director. She also plans to organize much of the material she's worked on over the years and put together a book.
---