SXU Alumna Serves Veterans Every Day in Nursing Role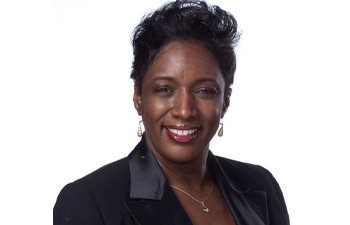 Saint Xavier University (SXU) alumna Jude Valery-Avinger '05 has dedicated her life to service. As a nursing professional who works closely with veterans, Valery-Avinger offers compassion, expertise and deep respect to those she cares for, and she is constantly working toward improving care and access to care.
As the clinical nurse manager and director of the home and community-based care program at Edward Hines Jr. Veterans Administration Hospital, Valery-Avinger manages a maximum capacity of 576 veterans. The program's goal is to keep veterans out of the hospital, so teams visit the veterans at their homes and work to educate them about their health. Many patients are part of the program for years. Currently, Valery-Avinger is focused on providing vaccines to veterans.
"I've been a nurse for 30 years and assisting veterans here for 13 years, and the vaccine is currently a hot topic. We've been successful in getting people to schedule appointments with us and our nurses have been going out and providing vaccines to our homebound veterans, our most vulnerable population. I am excited to be a part of history," said Valery-Avinger.
Valery-Avinger is also part of the Haitian American Nurses Association. Valery-Avinger, who is a first-generation Haitian, participates in community events and education and provides mentorship to nursing students. She also has a second master's degree in nursing administration from the University of St. Francis.
Though she is in administration, it's not uncommon for her staff to see her change out of a dress and immediately don scrubs as needed, something she says is instinctive, as she takes her nursing vows very seriously. Valery-Avinger finds that she appreciates the variety of options nursing has to offer and has her resume to show for it. She's worked in nursing roles for the State of Illinois Department of Public Health, United Government Services, Blue Cross Blue Shield of Illinois, and multiple nursing and home health care facilities.
"Everything I've done has been in the name of improving care for the patient. I've worked with insurance companies, worked as a state surveyor to monitor hospitals and am now in administration. You need that basic bedside experience, but the options are endless. You can work in policy, legislation, administration and more," said Valery-Avinger. "I want to inspire my staff and other nurses to see that you have to be devoted to the profession and to delivering quality care."
Valery-Avinger felt well-prepared for her multiple nursing roles thanks to a master's degree in public health from Saint Xavier. Though she was already a registered nurse and a returning adult student who had been away from school for over 10 years, she wanted to learn more about policy and public health at Saint Xavier, especially since she believes knowledge of public health and policy is critical in protecting communities who are under-resourced. She also enjoyed being able to influence the younger students she had classes with.
"It was a very rewarding degree and really helped in my position with the state, where you need to do a lot of environmental assessment, which had me appreciating my degree. Public health is critical to the success of a community. I met many wonderful people at Saint Xavier, and we collaborated well. The life examples I shared with students reinforced what we were learning in class," said Valery Avinger.
Valery-Avinger appreciated all of her courses at Saint Xavier, even the ones she wasn't sure she could relate to, like statistics, and she credits her professors for pushing her to become the professional she is today.
"My statistics professor at Saint Xavier helped me to see how statistics are relevant in our day-to-day activities, and my nursing professors were hardworking, high achievers, and they expected us and prepared us to be high achievers too. They made me feel like I could do anything. Getting a degree from Saint Xavier meant I was going to shine and represent the best," said Valery-Avinger.
Though Valery-Avinger enjoys her current work, she plans to go higher in the veterans administration field, hoping to eventually become chief nurse. In the future, she plans to retire within the next 10 years and teach as adjunct nursing faculty for a university. She hopes to empower future nurses to be passionate about their work and their nursing oaths.
---