SXU Alumna Spotlighted in Two Photography Exhibits in Berlin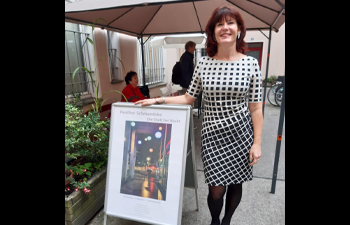 Saint Xavier University (SXU) alumna Heather Schmaedeke '97, '03 has her work spotlighted in two photography exhibits in Berlin, Germany. The exhibits, "Die Stadt bei Nacht," or "The City at Night," and "Stille Echos," or "Silent Echoes," are on display this fall.
"Die Stadt bei Nacht," on display at the Atelier Kirchner, follows the transformation of a city at night, with colors and shadows carving out the new and unexpected. Schmaedeke starts her exploration during the "blue hour" and also enjoys taking photos during inclement weather, as she finds the colors more intense, almost vibrating with reflections that dance in the dark. "Stille Echos," on display at G37 Galerie, follows her exploration of abandoned places, which she feels can be compared to traveling through time.
"I love to capture the transformation of the ordinary into something extraordinary. Most of the locations I get to visit are places that I would never have gotten to see if they had not been abandoned. It's like a treasure hunt and I always wonder what happened and why the places were left. How does something that was so meaningful at one point in time become abandoned?" said Schmaedeke.
Schmaedeke hopes that visitors to the exhibits will feel drawn to the narrative of the photos and that they are compelled to return to the image as if they are walking into a movie and can pick up on a story and continue writing it.
After graduating from SXU, Schmaedeke moved to Maryland, where she taught art at Northwestern High School for three years, the same school Muppets creator Jim Henson attended. There, she began a mentorship program where professionals working in the arts would visit the school and meet with students. Later, she worked for National Geographic as part of the digital media group and as a photographer and graphic designer for the Census Bureau.
In 2012, she moved to Berlin to participate in the Takt artist residency program for three months, where she found a renewed focus for photography. Previously, she'd been focusing on painting and drawing, but she'd been interested in photography since high school and had always wanted to participate in an artist residency, something she says her art professors at SXU always encouraged.
"I have always been interested in art and creativity. There was no question for me that I would study art and that it would always be part of my life. I am very grateful for the generosity and positive environment that was fostered by the SXU art faculty, who challenged me and encouraged me to stretch and grow creatively," said Schmaedeke.
Schmaedeke returned to teaching in 2013 at an international primary school while continuing to work as a freelance photographer. She photographed events, concerts, comedy shows, art exhibits, and anything else that caught her eye, kickstarting her urban exploration. Her photography began to get published digitally and in print. She is currently a full-time art teacher at the International Schule Berlin.
"As a teacher, I can open doors, encourage creativity and encourage self-confidence. I'm also always learning from my interactions with students. It's wonderful to have a job that combines my love of art and the joy of teaching," said Schmaedeke.
Schmaedeke plans to continue working on photography and growing personally and creatively. To view Schmaedeke's work, visit her Instagram account or web portfolio.
---