SXU Alumna Supports Youths in Spiritual Journeys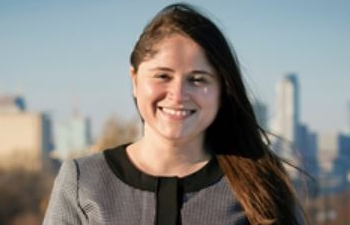 Saint Xavier University alumna Maria Aranda-Palafox '15, '18 has devoted her life to uplifting and supporting young people. She credits Saint Xavier for giving her an eye-opening experience that truly helped her to develop as a person and begin her spiritual journey, which led her to work for the Archdiocese of Chicago, where she serves youths every day.
While an undergraduate student, Aranda-Palafox majored in communication and business management. After graduating, she began working with the Boy Scouts of America as associate development director, where she had the opportunity to fundraise for boy scouts in the Chicagoland area. She loved her experience working in the not-for-profit sector and decided that she wanted to earn an MBA to learn even more about the business side of things, so she returned to SXU and graduated with an MBA in 2018.
About a month before she graduated, Aranda-Palafox began work at the Archdiocese of Chicago as the young adult engagement coordinator, where the mission is to engage, equip and empower young adults to create an encouraging Catholic community of missionary disciples who invite other young adults to experience Jesus Christ and his unconditional love for them. Aranda-Palafox believes that her experience at Saint Xavier truly felt like home, and after graduating, she wanted to work at a place where she could find that feeling again.
"It was quite a personal, spiritual and emotional journey. I was going through a lot at the time and trying to figure out who I was. After graduating from SXU, I really missed having that faith-based community. I made a few mistakes along the way, but after connecting with a young adult community at a parish near my home, I was able to grow in my faith and really fall in love with Jesus Christ. My life was transformed in so many ways, and I was called to start working for the church. I had a desire to help others get closer to Christ so that he could transform them in the way he did me," said Aranda-Palafox.
According to Aranda-Palafox, there has been a decline of young adult attendance within the Catholic Church. Her team is working intensely on really shifting any negative mindsets to create a more welcoming, authentic and transparent church and reconstruct some of its values.
"We realize a lot of young adults really value transparency, honesty and vulnerability. We want to create and build a church that can offer those values to young adults and create a sense of belonging for anyone who comes to the doors. Our goal is to form missionary disciples and followers of Christ to start changing the culture and provide a safe, non-judgmental space where young adults are loved and seen as humans. One of the most rewarding things about my job is watching the church transform into a home for everyone," said Aranda-Palafox.
Though they have had to make some adaptions due to the COVID-19 pandemic, Aranda-Palafox's team offers programs and events in a remote format, including Lenten meetings, Life Groups (fellowship, Bible Study and prayer meetings) Alphas meetings (exploratory faith sessions) and a "Theology on Tap" series, featuring a designated speaker and youth group discussion.
While at SXU, Aranda-Palafox participated in the annual service trips and served as an Awakenings retreat leader, was a member of UNIDOS, and was a student worker for Public Safety. She especially has fond memories of the five service trips she attended.
"Saint Xavier is a very diverse community. As a first-generation college student, it was a very eye-opening experience to me to be exposed to so many people from different backgrounds and cultures. It was a true blessing. I cannot express how participating in the service trips really formed me as a person. It was life-changing, liberating and healing. Being able to serve really opened my eyes to what I was passionate about, which is helping others. This is my purpose," said Aranda-Palafox.
She's also grateful for the experiences she had in the classroom, as she believes being able to balance pastoral and ministerial work with strategic planning is necessary in reaching her team's goals. When she began work with her Archdiocese team, they worked on a proposal, timeline, and building a mission and vision, all things she learned in her business and management courses. She finds that the mission she built aligns directly with Saint Xavier's.
"We think hospitality should be an integral value of the Catholic Church – making someone feel like they belong. Compassion is another important one, meeting people where they are and being non-judgmental. We want to advance our mission of forming a more welcoming and loving church," said Aranda-Palafox.
Aranda-Palafox is grateful for her professors and advisors, who were kind, determined and encouraging and pushed her outside of her comfort zone. She believes that the friendships and professional relationships she developed at SXU have been critical in the development of her own personal mission.
"I just want to uplift anyone who wants to be a leader. I've seen the growth of people who have come to ministry. Being a peer can really make a huge difference in someone's life. We all need more people to look up to. Everyone needs someone, and I want to encourage others to be that difference in someone's life," said Aranda-Palafox.
In the future, Aranda-Palafox plans to pursue another graduate degree in theology, ministry or pastoral studies, as she wants to further develop her theology background. For now, she will continue her important work of changing lives.
To learn more about becoming involved with youth groups through the Archdiocese of Chicago, email maranda@archchicago.org.
---