SXU Alumna Thrives as Television Reporter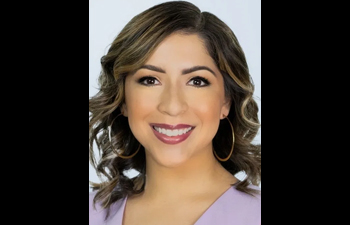 Kenya Ramirez (NBC4)
Saint Xavier University (SXU) alumna Kenya Ramirez '17 has made her mark in the broadcast world, both as a star reporter and as a journalist who has dedicated her life to covering the stories of the underserved Hispanic community.
Ramirez, who majored in English and minored in philosophy, communication and writing, began working as a multimedia journalist in broadcast journalism in central Illinois after graduating from SXU. Two years later, she began working for NBC affiliate WCMH-4 in Columbus, a station where she is currently the only Latina reporter on air.
In her work as a general assignment reporter, she covers many stories on Black and brown community members, especially during the COVID-19 pandemic. Ramirez hopes that her coverage will provide community members the representation needed when it comes to public health policy so they are encouraged to get vaccinated. Ramirez also works to cover the good things that are happening in the community, like summer programs and important community resources.
"I spend a lot of time getting to know the community and building trust by listening to them. I want my viewers to know that I care about them. I grew up on Chicago's South Side and carry a personal connection to the underserved families here that gives me a sort of kinship when interviewing them," said Ramirez.
Before she began broadcasting, Ramirez worked at a personal injury law office, which inspired her to want to work as an immigration attorney. Now, she works to tell the stories of those fighting to achieve citizenship. Her hope is that by telling these stories, she will be able to create a dialogue that will heighten awareness about the families. Ramirez has a deep connection to many of her stories.
Through her reporting, Ramirez hopes to positively impact the lives of others and remind them that it is possible to reach their goals, despite systematic obstacles. When she was in high school, she had a disappointing experience with a counselor, who told her that she'd be lucky to get an associate's degree because of her parents' income. However, she found a home at SXU, particularly in instructors Peter Kreten and Gina Rossetti, Ph.D., who reminded Ramirez that she was important, intelligent and valued, and taught her how to be more confident.
"Kenya was one of the hardest-working students I've ever had the pleasure of working with. Her dedication to her education and following her dreams is awe-inspiring. I am incredibly proud of her and all of her accomplishments," said Kreten, director of Student Media.
"Kenya is someone who brings focus and integrity to all that she does. In particular, her senior project focused on the soft bigotry of lowered expectations in educational settings serving Latinx students. She went to a high school with a large Latinx student population, and she was only one of a few students from her graduating class to attend college. Whether examining a literary text or grappling with the implications of social policy, Kenya thrived in her ability to dissect and analyze," added Rossetti, English professor.
Ramirez came to Saint Xavier as a transfer student from Columbia College. Saint Xavier was both closer to her and more affordable. While at SXU, she interned in marketing for University Relations and broadcasting for WXAV. She also rang the Academy Bell for the Student Leader Commissioning. She loves the Saint Xavier Mercy mission.
"SXU really teaches you how to be humble, kind and appreciative of the things you want to achieve in life. The Mercy mission is something I will always carry with me," said Ramirez.
Ramirez believes that her degree from SXU was what set her apart from others in the broadcast journalism field. She believes that being taught to think outside the box makes her an asset to the team. She encourages current students interested in broadcast journalism to have patience when they make mistakes and enjoy the ride as much as they can.
Ramirez is currently working on obtaining a master's degree in instructional design and technology – an endeavor she'd always promised her father she'd complete.
"I owe everything to my parents. My father had to work from 3 a.m. to 9 p.m. every day. At the time, they were undocumented and told me that I didn't have an excuse to not go to school. The really pushed me to be where I am now – serving others."
To connect with Ramirez, visit her Instagram searching the handle @kenya.tv.
---