SXU Alumna's Business Flourishes in Frankfort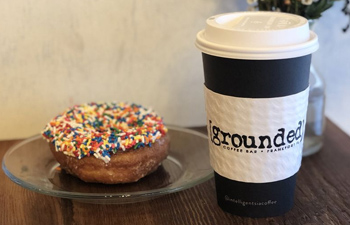 Saint Xavier University (SXU) alumna Sheila Raines '96 has brought the classic coffeehouse experience to downtown Frankfort with her business, Grounded Coffee Bar. Though Raines earned her undergraduate degree in nursing from SXU, she decided to take a big chance on starting her own business, and the risk has led her to great success.
Raines grew up in Beverly and went to Queen of Martyrs Catholic School and then Mother McAuley Liberal Arts High School before beginning her undergraduate career at Saint Xavier, where she was a first-generation student. After graduating from SXU, Raines took her nursing board exams and began working as a nurse in the intensive care unit at Little Company of Mary Hospital. When she and her husband began having children, she wanted to prioritize raising her family and moved to Mokena. Later on, she did some private nursing and eventually took a position as a health services coordinator for Orland Township. She loved nursing, but she'd always wanted to own a business -- even though she didn't necessarily have a lifelong dream to own a coffee shop. The idea crossed Raines's mind, and she decided in a matter of minutes. Within a day, she'd found a storefront.
"Most people think about starting a business for a lot longer than five minutes, but it was that simple for me to make the decision," said Raines. "I always liked little coffee shops, but the only ones in Mokena were standard chains. I wanted to create a place that would be like an escape, a place you could go to meet a friend or work. That is why I named it Grounded – not just because coffee is ground, but because of how I wanted people to feel when they're in there."
Raines had a lot of help from surrounding communities as she prepped to open. She spent a significant amount of time researching and learning about coffee from Intelligentsia Coffee, a specialty coffee pioneer. Along with Intelligentsia Coffee, Raines also serves items from Aya Pastry, Do-Rite Donuts and Kilogram Tea. A local art student drew their logo, a tree of life, and Raines's employees are made up of local high school students who have been with her since the shop opened. Despite challenges posed by COVID-19, the coffee bar has been doing well, and Raines is just getting started.
Raines's hope for Grounded was to create a place for the community that was like a home, and that goal has been achieved. Many of her customers come in every single day, and she has people who drive from more than 30 minutes away. She enjoys listening to their stories and learning about their lives. She's also proud to have created 13 jobs for local students and loves watching them flourish.
"You have to pour your heart and soul into creating a successful business, and the self-gratification you earn from that is critical, as you know that all of your own decisions are what has gotten you to where you are," said Raines.
Though Raines had a career change, she felt that Saint Xavier prepared her both for nursing and being a productive citizen.
"I was always so proud of going to Saint Xavier. My instructors prepared me with a solid education and gave me the confidence and knowledge base I needed to succeed. When I started working, nurses who came from Saint Xavier were looked at in awe. We all had great training," said Raines. "While at the school, I really enjoyed the nursing students in my group. We were so determined and really supported each other, sometimes even having studying sessions until 4 a.m."
Raines finds that nursing compares to owning a business in some ways, as she believes that in both occupations, you need to make decisions quickly and have confidence in those decisions, and both require lifelong learning. Most importantly, both require integration of the important mission and core values Raines enjoyed at Saint Xavier.
"Living in Mercy is just how I was raised as a faith-based Catholic and how I raise my kids. God is with me in every decision I make. At Grounded, I offer compassion to all who come in just wanting to talk, and I've forged relationships with many strangers. I like to make people happy every day, and I hope my employees learn from me," said Raines.
Raines hopes to open a second business eventually, partnering with her friend Anna Bengston, owner of Bengston's Pumpkin Farm, to open a flower farm where Raines will set up a seasonal coffee stand.
"My experience has been unique, but I wouldn't be where I am today if I hadn't gone to Saint Xavier."
---