SXU Alumnus Elected Mayor to Blue Island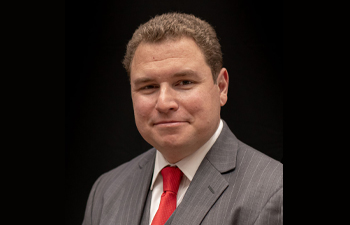 Saint Xavier University (SXU) alum Fred Bilotto '04 has recently been elected mayor of Blue Island – and he has a staff of fellow SXU alumni behind him!
Bilotto's team is comprised of SXU alumni Tom Wogan '01, city administrator; Beverly Dorsey '16, assistant to the mayor and constituent service coordinator; and Reyna Alvarado '03, assistant to the city clerk. Bilotto's wife, Stephanie '08, is also an alumna and maintains Bilotto's social media pages and is very involved in the town of Blue Island. With a staff of talented and bright SXU graduates, Bilotto's first mayoral term is off to a great start.
Bilotto, who has been elected to public office since he was 19 years old, has been alderman of Blue Island's 2nd Ward since 2014. Throughout his time in public office, he's also been leading the social studies, foreign languages and fine arts division as a teacher and administrator at Thornwood High School in South Holland. Bilotto believes that a strong mayoral candidate is one who is firm and confident in decision making.
Politics are a part of Bilotto's family history, as both his father and grandfather were involved. As mayor, Bilotto plans to prioritize modernization and digitization within many of the city's current systems, as well as improvements to marketing and infrastructure, including the city's streets and sewer systems. Though the city will surely benefit from improvements, there is a lot to love about Blue Island.
"It's the history. The population and boundaries have been the same since the Civil War. Blue Island has everything going for it. We have more train stations than any town outside the city of Chicago, an extremely diverse population and good school system, plus great entertainment in our downtown district. We can fix this town with everyone's support," said Bilotto.
Though processes in the city are archaic, according to Bilotto, some are time-treasured, like Bilotto's communication with constituents. Those who want to speak to the mayor personally can do just that, whether by email, phone or even showing up at his front door. With 20 years of serving the city of Blue Island under his belt, Bilotto hopes to design a government that responds to residents' needs quickly and efficiently in his new role.
While at SXU, Bilotto studied history, social science and education. He praises his professors for being realistic and down-to-earth.
"When I went to school, I was working full time and holding elected office simultaneously. I loved Saint Xavier because it was close enough for me to still serve Blue Island. My professors made my time in class sociable and fun, and my education courses provided realistic expectations for what my classroom experience would be like and helped me improve my time management skills," said Bilotto.
Bilotto advises students interested in policy and government to understand that while someone in an authoritative position can't make everyone happy, it's important to consider decision making that will best serve the needs of the community as a whole.
"You have to make a decision and stick to it without promising anything you can't give. The biggest thing is listening. People just want to be heard. Sincerely listen to the problems," said Bilotto.
Bilotto, who has also earned a master's degree in educational administration, plans to remain mayor of Blue Island until he's satisfied with city improvements. Ultimately, he wants to work on economic development and make the city of Blue Island a premier destination.
---