SXU Announces 2021 Commencement Speaker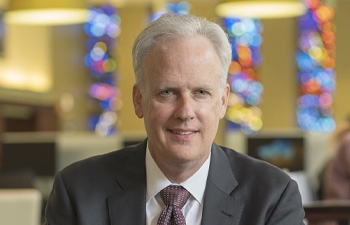 Saint Xavier University (SXU) is pleased to announce Timothy G. Trahey '82 as the 2021 Commencement speaker. Trahey, who served as chair of the SXU Board of Trustees, will receive an honorary degree, Doctor of Business Administration, honoris causa, and share his knowledge and expertise in business and finance while congratulating this year's graduates on completing their education despite challenges brought on this academic year with COVID-19.
A native of Chicago's Southwest Side, Trahey graduated from Saint Xavier University with a degree in business administration in 1982. Trahey was the founder and president of the Business Students Association and a recipient of the 1982 Distinguished Student Service Award. With the assistance of Saint Xavier's Career Services, Trahey started as a management trainee at Jewel Food Stores in 1982, where the first day as a new college graduate was spent unloading a semitrailer full of dairy products, and he would later realize he'd rather be behind a desk than in a cooler.
In 1983, he began his career in finance as a junior accountant and would subsequently serve in various finance, accounting and treasury leadership positions at Loyola University, Smurfit-Stone Container Corporation, Energy USA, Box USA and Fort Dearborn Company. Graduating with an MBA from Xavier University in Cincinnati in 1987, Trahey served as executive vice president and chief financial officer for Fort Dearborn Company, where he led the reengineering of the company's backroom operations, including the development of new platforms for financial reporting, budgeting, forecasting, treasury, risk management, human resources and information technology. Trahey assisted with the turnaround of multiple companies with various managerial, legal, strategic and financial difficulties and would later bring the same business acumen and innovative thinking to improve Saint Xavier's financial stability.
Trahey served as a trustee of Saint Xavier from 2014 until 2019. In 2016, he was selected board chair and demonstrated the characteristics associated with great leadership: integrity, courage, loyalty, vision, humility, patience and an amazing sense of humor. During his tenure, SXU restructured its Board committees, approved new academic programs, shifted enrollment management resulting in the largest first-year class in 173 years, improved operating performance, reduced institutional debt and doubled the endowment. His dedication has resulted in a stronger, more resilient institution with the resources necessary to educate future generations of students.
Trahey and his family have made substantial contributions to a number of University initiatives, including the Saint Xavier Fund and student scholarships, and because of his continued leadership and sustained positive impact on SXU, he was named a trustee emeritus in 2019 -- a title he will hold for life.
To comply with local and state guidelines and to ensure the safety of SXU students, their families, friends, faculty and staff, 2021 Commencement ceremonies will be held virtually on May 8, 2021.
For more information, visit the Commencement web page or email commencementFREESXU.
---