SXU Announces New Alumna Memorial Scholarship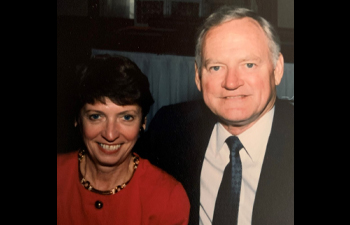 Saint Xavier University (SXU) alumna Mary Janet (Janet) O'Leary '59, a champion of Saint Xavier's mission of service and a firm advocate for the importance of education, will be honored with a new endowment. The Mary Janet (Dreyer) '59 and John W. O'Leary Memorial Scholarship will support students at Saint Xavier for years to come.
John (Jack), who recently passed in January, initially made a significant gift to the University in December 2019 to honor Janet, who passed in May 2018. Jack loved his wife dearly and knew how much Saint Xavier meant to her, so it was important to him to give back in tribute.
Recently, Jack and Janet's children, John O'Leary and Mary Kay Springman, donated to fund the new endowment, targeting students who had a financial need and who, through their academic achievement, had demonstrated commitment to their education.
"Mom and Dad donated to SXU over time as a way of giving back and wanted to make a nice gift from their estate after they passed away. When we found out about the opportunity to create a scholarship in their names, it seemed like the perfect way to continue their legacy as lifelong learners," said Springman.
According to Springman, Jack and Janet lived very rich, full lives and continued to grow as individuals and as a couple well into their senior years. They both enjoyed successful careers in roles that evolved over time and they loved spending time with their family and friends. The O'Learys had three children, five grandchildren, 10 siblings and a large extended family. They enjoyed the theater, symphony and travel, and they instilled a love of the arts in their children and grandchildren. Jack and Janet were truly a team who adored and respected each other.
Springman recalls a particular fond memory she has of going to Saint Xavier with Janet when she needed to pick up a copy of her transcripts.
"When I asked what we were doing there, she explained that she had gone to college at the school, and it was a rare moment when she openly exhibited pride," said Springman.
After graduating from SXU, Janet taught kindergarten for Chicago Public Schools (CPS) for a few years and then stayed home to raise her children. When her children were very young, she became involved with the Blue Island Park District, where she played piano as an accompanist for a class and eventually directed the whole program. Later, she began teaching in Naperville as a substitute and had a reputation for being a no-nonsense teacher. Janet also held several roles at St. Raphael Catholic Church, where she joined a guitar group that played during Mass.
In the late '70s, Janet returned to school at Northern Illinois University, where she earned a master's degree in education. After graduating, she began working as the health education coordinator at LaGrange Memorial Hospital and would later become the director of community health education. Shortly after taking a position as training director at MidAmerica Federal Savings, Janet developed an interest in finance, obtained a Series 7 license and served as a broker and financial advisor for the remainder of her career.
Throughout their lives, Janet and Jack were actively engaged in community service and consistently celebrated and lived Saint Xavier's mission and core values. Jack coached many sports team and Janet was a Cub Scout leader, assisted with the Girl Scouts and taught catechism classes. Jack particularly championed the core value of diversity, supporting the sole female baseball player in the league while he coached during a time when most other coaches actively discouraged her involvement.
Later, Jack began working with incarcerated youth at the former DuPage Juvenile Detention Facility. Janet brought resources to victims of domestic abuse during her time at the hospital and also sponsored a young investors club at Naperville Central High School, seeking to promote financial literacy in young people. Jack was also a volunteer reading support specialist in grade schools and a volunteer at a hospital in Naples.
"Mom and Dad instilled the importance of work ethic and giving your best effort to whatever you do. They taught us to appreciate education," said Springman. "With this endowment, our hope is to provide opportunity to students who might not have had it otherwise, and we would love to grow it over time."
As Saint Xavier celebrates 175 years of providing a quality Mercy education to incredible students, Springman and her brother are happy that their parents will live on through the scholarship and become a part of Saint Xavier's rich history.
"If Mom had a chance to talk to today's students, she would probably tell them to believe in themselves and make the most of every opportunity and situation. Mom discovered herself over the course of many years. With the learning that came through both formal education and experience, she realized what was most interesting and rewarding for her was being able to continually learn and grow. That sort of discovery in the scholarship recipients would make her happy," added Springman.
The scholarship will be available for award beginning in the fall semester of 2022. Candidates for the scholarship must be full-time, degree-seeking undergraduate students who are at a sophomore, junior or senior level and maintain a minimum 2.5 cumulative GPA. Preference will be given to candidates who demonstrate financial need. For more information, email scholarshipsFREESXU.
---