SXU Art Professor Awarded 3Arts Make a Wave Grant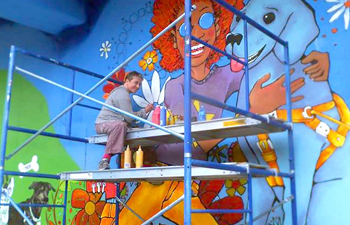 Saint Xavier University (SXU) art and design professor Gretchen Hasse has received an art grant from Make a Wave, an artist-to-artist program that erases the traditional gatekeeper by inviting past awardees to select artists who are making an impact in Chicago to receive surprise grants.
3Arts, a nonprofit organization dedicated to supporting Chicago's women artists, artists of color and deaf and disabled artists who work in the performing, teaching and visual arts, is the grant-making organization for Make a Wave and will honor awardees at the annual 3Arts Awards.
"I join an absolutely stellar group of awardees, both current and past," said Hasse, who is a multidisciplinary artist and co-founder of Agitator Co-operative Gallery, where she's curated several powerful exhibits.
Hasse will use the grant to take some time to focus exclusively on her comic, "Freaks' Progress," what she describes as a meandering, character-focused tale intended to complicate the conventional understanding of how to create a better world. She will also use the grant toward professional development, including consultation with a fellow artist on presenting and building on the self. She'll also hire a photographer to take high-quality photographs of her work.
Hasse finds that art is how she explains the world to herself and how she best communicates with others.
"Over many decades, I have cobbled together a livelihood that maximizes self-expression while still paying my bills. It's a rough road and sometimes it doesn't work at all. Success depends as much on community support as it does on skill, and both take time to develop. I genuinely can't thrive any other way. This is why the organized chaos energizes me," said Hasse.
Hasse has been teaching at SXU since fall 2019 and immediately was impressed by the dedication of SXU students and finds them inspiring. In her classes, she likes to give students skills and let them develop the skills in the context of their own interests.
"I require sketchbooks in my classes, and I ask students to write about their drawings, describing any challenges or successes they experienced in the creation process. Writing about one's art always helps one think more deeply about it, which leads to growth on many levels," said Hasse, who feels she learns as much from students as they do from her, many of whom are not art majors.
Though Hasse was nominated by others for the Make a Wave grant, she has plenty of experience submitting applications to grants, residencies and other opportunities. She finds that they help one think more deeply about their practice and themselves as an artist, and the work ultimately helped her to create Writing for Artists, a new course she taught at SXU for the first time in spring 2021.
Hasse plans to continue working on "Freaks' Progress," which she has been publishing in Activator, a music magazine out of Springfield. She finds it to be the perfect blend of writing and art and says it's allowed her to express many complicated ideas she's been building on for decades.
In the spring, she will work on larger than life animatronic robots. While robotics is an entirely new skill for Hasse, she looks forward to experiencing all the successes and failures that come with tackling a new medium, finding there to be great creative freedom when there is nothing to prove.
Learn more about Professor Hasse and view her work on her website.
---