SXU Awarded Grant from Illinois Board of Higher Education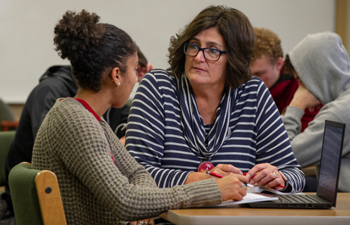 Saint Xavier University (SXU) has been awarded a one-year grant of $38,192 from the Illinois Board of Higher Education (IBHE) for the Illinois Cooperative Work Study Program, a competitive program that is designed to enhance public-private sector partnerships, expand internship opportunities, reduce student reliance on loans, encourage permanent employment of Illinois graduates in Illinois, and provide links between academic programs and employment.
The Cooperative Work Study Program will be managed by SXU's Center for SUCCESS, which provides academic and career development services for students. SXU was selected to receive the award through a competitive application process over the spring 2021 semester. The proposal was developed in partnership with area employers who indicated interest in providing real-world experience to Saint Xavier students.
With limited non-Federal Work-Study-eligible positions, many students struggle to obtain on-campus employment. Cooperative work study opportunities can positively affect student retention. Positions funded through the program will be marketed to students who may not have Federal Work-Study but showcase a need to work. The program will secure at least 25 reimbursable placements for students, including 15 in the social services field.
Before applying for the grant, Saint Xavier's Center for SUCCESS used Handshake, a leading career site for college students, to gauge employer interest and were able to extend their reach and diversify the employers they coordinate with to offer students internship opportunities. They were also able to establish a partnership with several employers across a variety of industries who agreed to cover up to at least 50% of student wages, with the remainder covered by the grant.
"The grant incentivizes employers to hire our students at a reduced cost to the employer, which benefits our students with valuable experience and skill development," said Joshua Bogaski-Baugh, executive director of Student Success and project director for the grant. "Our goal with this grant is to provide students with a meaningful work experience and the valuable skills needed to unlock a successful job search after graduation."
The Center for SUCCESS works to keep their fingers on the pulse of current standards and expectations in recruitment of college graduates by frequently surveying a variety of employers and using the information to inform services, programs and appointments. With many employers prioritizing applicants with pre-professional experience such as employment, volunteer experience, internships and involvement, the grant will afford students the opportunity to stand out in a pool of applicants.
"This grant aligns perfectly with the vision of the Center for SUCCESS to holistically guide students' academic and career trajectories toward meaningful opportunities. I am grateful for the work of our Center for SUCCESS team and their integrated approach to student advising, leadership development and career coaching, which purposely ties course content with real experience," said SXU President Laurie M. Joyner, Ph.D.
---