SXU Awarded $1.8 Million Grant From U.S. Department of Education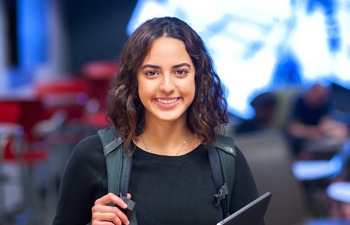 Saint Xavier University (SXU) has been awarded a $1.8 million grant from the U.S. Department of Education's Institutional Resilience and Expanded Postsecondary Opportunity (IREPO) program. The grant (no. P425P200305) will be used to develop more resilient instructional models, such as distance learning, to continue educating students who cannot attend classroom-based instruction due to the COVID-19 pandemic.
SXU submitted a competitive application and was one of only 62 institutions selected for funding. The grant will enable SXU's Center for Instructional Design and Technology (CIDAT) to increase staffing and resources to facilitate academic programs to enhance online course delivery and prepare faculty to ensure high-quality, equitable instruction that meets the diverse learning style of students to reduce disparities in academic outcomes and increase student self-confidence in virtual courses.
"We strongly believe that innovation is a journey and requires a commitment to positive interactions with faculty to flourish. This grant will allow faculty to implement best practices and experimental methods, and our success will be measured by faculty's ability to inspire students through innovation," said Yue Ma, director of CIDAT.
Institutions across the nation scrambled to put courses online at the height of the COVID-19 pandemic, and though many institutions have welcomed students back to campus for the fall 2021 semester, the demand for instructional design and technology implementation remain high. The project aims to achieve positive measurable outcomes for students of color and low-income students enrolled in online courses as well as student self-efficacy and self-confidence in an online learning environment.
SXU's Graham School of Management (GSM) will also benefit from the grant. The school currently offers a high-quality dual enrollment general introductory business course through partnerships with area Catholic high schools. As part of the grant, GSM will expand its introductory course to local high schools that serve federally-designated Opportunity Zones. The course will afford students college credit and help them to understand the business of hospitality, including areas such as food and beverage service, restaurant management, food safety and tourism.
"I am excited for GSM faculty to engage with high school students by introducing them to hospitality careers, which are essential to Chicago's economy. Many high school students may pursue hospitality careers as a result of being exposed to them during this course," said Mark Rosenbaum, Ph.D., dean of GSM.
SXU's goals for the grant will be met with the addition of more than 140 hours of online courses to SXU's catalog; an instructional studio for faculty to create professional video content for online courses; mobile technology; professional development on instructional design; additional student learning supports, academic databases and instructional software; faculty training on equitable online instruction and accessibility; and an accessibility audit pinpointing areas of opportunity to meet diverse learning styles.
"This grant signifies the extraordinary work of our faculty and staff in service of our students and our resilience as an institution in the face of COVID-19. I am incredibly proud of our CIDAT and Graham School of Management teams who worked hard to secure funding for critical initiatives that will better prepare our community for a variety of equitable educational delivery models," said President Laurie M. Joyner, Ph.D.
---