SXU Awarded Two Grants From U.S. Department of Education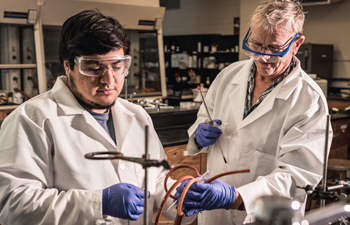 Saint Xavier University (SXU) has been awarded two additional grants from the U.S. Department of Education. Funded by the Title V Hispanic-Serving Institutions Program, the Enlace grant (P031S210208) awards SXU $2,867,919. The Conexiones grant is funded under the Hispanic-Serving Institutions STEM Program (P031C210201) and secures $4,571,166 for SXU. Both five-year grants, Enlace and Conexiones are part of an intentional strategy to build additional supports and strengthen existing resources for SXU students.
The Enlace award marks the second Title V grant and third major federal grant received by SXU tied to its federal designation as a Hispanic-Serving Institution (HSI). This program will build on the Title-V funded Comprehensive, Aligned Supports for Attainment (CASA) initiative by integrating multicultural competency, equity awareness and learning-centered strategies in and outside of the classroom.
Enlace will allow SXU to implement the creation of equity grant programs for faculty, including additional professional development opportunities; better coordination of online educational quality and assessment; enhancement of Spanish in the workplace curriculum; addition of Spanish-language content for SXU student media; bilingual counseling; additional financial literacy programming; and stronger student connections to internships and externships, as well as the creation of an Industry Advisory Board focused on STEM.
The Conexiones program will work to improve math offerings, facilitate transfer agreements with area community colleges, including Moraine Valley Community College, and offer additional student supports, including virtual video modules and internship placements.
Conexiones will enable SXU to implement streamlined developmental math offerings; the creation of a motion graphics and game design program to diversify computer science offerings and make stronger connections with art and business; professional mentoring for computer science students; computer science internship/externship funds to support students in unpaid internships; pre-admission advising in STEM for transfer students; supplemental instruction videos and a STEM academic success coach to provide additional support; and professional development for faculty and staff on inclusive pedagogy.
Activities for both grants will supplement coursework, enhancing the overall SXU experience and providing the opportunity to participate in programs that are directly tied to high-demand careers. These activities will work in tandem to support students in critical areas so that they receive meaningful experiences and are retained through graduation. Planning for the programs and activities will take place this semester, with implementation beginning in spring 2022.
"We have been intentional in directing high-dollar federal grant applications toward maximizing student support to eliminate equity gaps in achievement and to invest further in professional development to advance excellence in teaching and learning," said SXU President Laurie M. Joyner, Ph.D.
"I am proud that SXU has continued to minimize tuition increases and expand student financial aid while adding over $15 million in federal grant awards largely directed to student support since 2017. These strategic decisions have resulted in SXU's continued recognition as the most affordable Catholic university in Illinois, a 2022 "Best Value" school among regional universities in the Midwest and a 2022 top performer on social mobility, according to U.S. News & World Report," added Joyner.
---